Cleanthony Early
Recent Tweets
All Tweets
DraftExpress: At #34 the New York Knicks select Cleanthony Early. Huge ovation from crowd. Can't remember last time Knicks fans were happy with a pick?
2014-06-26 23:07:53
DraftExpress: Cleanthony Early has been very streaky from beyond the arc all season. Some games he can't miss but then he'll go weeks w\/out making a 3.
2013-04-06 18:30:11
DraftExpress: Cleanthony Early (#11) is a great story. Came to Wichita from a D-3 JUCO. Bit of a tweener at 6-8 but a talented scorer and solid athlete.
2013-04-06 18:29:15
Team: Knicks
Physicals
Positions
Salary
Misc
H: 6' 7"
W: 209 lbs
Bday: 04/17/1991
(24 Years Old)

Current: SF/PF
NBA: SF
Possible: SF/PF

Agent: Doug Neustadt
Current Salary:$507,336

High School: Pine Bush
Hometown: Middletown, NY
Drafted: Pick 34 in 2014 by Knicks

Predraft Measurements
| Year | Source | Height w/o Shoes | Height w/shoes | Weight | Wingspan | Standing Reach | Body Fat | No Step Vert | Max Vert |
| --- | --- | --- | --- | --- | --- | --- | --- | --- | --- |
| 2014 | NBA Draft Combine | 6' 6" | 6' 7.25" | 209 | 6' 10.75" | 8' 5.5" | 4.5 | 34.0 | 40.0 |
| 2013 | Kevin Durant Camp | NA | 6' 7" | 207 | 6' 9" | NA | NA | NA | NA |



Basic Per Game Statistics

- Comprehensive Stats - Statistical Top 25s
| Year | League | Name | GP | Min | Pts | FG | FGA | FG% | 2Pt | 2PtA | 2P% | 3Pt | 3PtA | 3P% | FTM | FTA | FT% | Off | Def | TOT | Asts | Stls | Blks | TOs | PFs |
| --- | --- | --- | --- | --- | --- | --- | --- | --- | --- | --- | --- | --- | --- | --- | --- | --- | --- | --- | --- | --- | --- | --- | --- | --- | --- |
| 2015/16 | NBA | Cleanthony Early | 6 | 4.0 | 1.2 | 0.5 | 0.8 | 60.0 | 0.3 | 0.3 | 100.0 | 0.2 | 0.5 | 33.3 | 0.0 | 0.0 | &nbsp | 0.0 | 0.3 | 0.3 | 0.2 | 0.2 | 0.0 | 0.0 | 0.3 |

Player Page&nbsp&nbsp| Player Stats | Mock Draft History | Related Articles&nbsp&nbsp| Add to My Draft Express&nbsp
&nbsp
Situational Statistics: the 2014 Small Forward Crop
June 20, 2014
Wichita State's Cleanthony Early ranks 2nd in this group scoring 1.11 points per possession due in large part to the fact that he was effective from all over the floor. He scored a group leading 1.13 points per possession in the post, 3rd ranked 1.11 points per jump shot, and an above average 1.28 points per shot around the rim. If there's a downside to Early's profile, it's that he used fewer possessions than almost any player on this list creating his own shot in isolation and pick and roll situations, as Fred Van Vleet and Ron Baker handled essentially all of the shot creating duties away from the rim. There's little doubt Early's numbers are inflated to some degree by the quality of competition he faced in the Missouri Valley Conference, but his overall skill level and performance against quality teams leaves plenty of room for optimism that his numbers are an accurate reflection of his talent and that he can help spread the floor and exploit mismatches at the next level in time.

[Read Full Article]

---
2014 NBA Combine Inteviews: Young, Austin, Early
May 17, 2014
[Read Full Article]

---
Cleanthony Early Scouting Report and Video Breakdown
April 15, 2014
Scouting Report by Jonathan Givony. Video Breakdown by Mike Schmitz

Cleanthony Early was one of the top per-minute scorers in college basketball this season, playing for a team that went undefeated until they ran into a Kentucky squad that eventually lost in the NCAA Tournament Championship game. Now that Early's college career is over, we can take a step back and conduct an inventory of everything he displayed this season as an NBA prospect, as well as the things he still has to improve on.
---
-P.J. Hairston Scouting Report and Video Breakdown
-Zach Lavine Scouting Report and Video Breakdown
-Artem Klimenko Scouting Report and Video Breakdown
-Tyler Ennis Scouting Report and Video Breakdown
-Rodney Hood Scouting Report and Video Breakdown
-Doug McDermott Scouting Report and Video Breakdown
-Andrew Wiggins Scouting Report and Video Breakdown
-Elfrid Payton Scouting Report and Video Breakdown
-Marcus Smart Scouting Report and Video Breakdown
-NBA Draft Prospect of the Week: C.J. Wilcox (Video Scouting Report)
-NBA Draft Prospect of the Week: T.J. Warren (Video Scouting Report)
-NBA Draft Prospect of the Week: A.J. Hammons (Video Scouting Report)
-NBA Draft Prospect of the Week: K.J. McDaniels (Video Scouting Report)
-NBA Draft Prospect of the Week: Deonte Burton (Video Scouting Report)
-NBA Draft Prospect of the Week: Noah Vonleh (Video Scouting Report)
-NBA Draft Prospect of the Week: Nik Stauskas (Video Scouting Report)
-NBA Draft Prospect of the Week: Aaron Gordon (Video Scouting Report)
-NBA Draft Prospect of the Week: Clint Capela (Video Scouting Report)
-NBA Draft Prospect of the Week: Thanasis Antetokounmpo (Video Scouting Report)
-NBA Draft Prospect of the Week: Shabazz Napier (Video Scouting Report)
-NBA Draft Prospect of the Week: Bogdan Bogdanovic (Video Scouting Report)
-NBA Draft Prospect of the Week: Joel Embiid (Video Scouting Report)
-NBA Draft Prospect of the Week: Julius Randle (Video Scouting Report)
-NBA Draft Prospect of the Week: Jabari Parker (Video Scouting Report)
-Revisiting Giannis Antetokounmpo (Video Scouting Report)
-Revisiting Damian Lillard (Video Scouting Report)
-Revisiting Nikola Mirotic (Video Scouting Report)
-Revisiting Alexis Ajinca (Video Scouting Report)
---
Early has good physical tools for a NBA small forward, but only average ones if he's projected to play the only position he's ever played in college, power forward. He's listed at 6-8 by Wichita State, but was measured 6-7 in shoes at the Kevin Durant Skills Academy in the summer of 2013. His wingspan was measured 6-9 there, which is average for a NBA small forward and well below average for a power forward.

He has a strong frame (219 pounds) and very good athleticism to compensate for that, though, with really nice quickness and leaping ability which he regularly takes advantage of from different spots on the floor.

Early was one of the best scorers in college basketball, averaging 24.5 points per-40 minutes pace adjusted, the fifth best rate among prospects in our Top-100 Prospects rankings. He's a fairly versatile scorer who Wichita State utilized in many different ways this season, be it in transition, posting up, shooting from the perimeter, as a cutter, and attacking the basket in a straight line. Not only did he score prolifically, he was also extremely efficient (58% 2P%, 38% 3P%, 84% FT%). His 64% True Shooting percentage ranks seventh among Top-100 Prospects.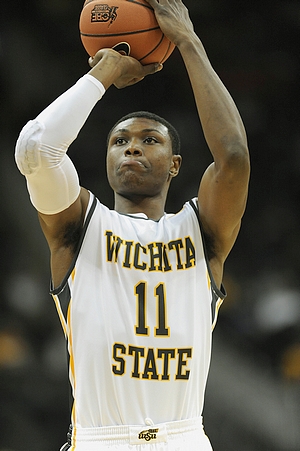 US Presswire



Early is a solid shooter with his feet set, making 39% of his catch and shoot attempts on the season, up from 31% last season. He's done a good job of working on his previously very poor shooting mechanics to make this a real weapon in his game, but there are still some question marks about how this might translate to the NBA 3-point line.

Early shoots a very flat jumper, almost a line-drive, which doesn't give him a great deal of room for error. His mechanics can get a little sloppy at times as he doesn't always shoot it the same way, contorting his body sideways and displaying somewhat of a hitch at the end sometimes, so he'll have to continue to polish this part of his game, particularly in terms of expanding his range. Early is almost exclusively a catch and shoot jump-shooter, as he almost never shoots off the dribble (only 12 times this season, down from 20 the previous year), which is part of the reason his 2P% is so high.

Early is also capable of taking advantage of mismatches that are presented to him. If a weaker player is guarding him, he will go into the post and use his strong frame to make deep catches and either finish or draw a foul. If a slower power forward is guarding him, he can attack the rim with a quick first step and bully through opponents in a straight line. He shows nice toughness and does a great job of finishing aggressively through contact, and gets to the free throw line over 7 times per-40 minutes pace adjusted. He's also very effective in transition, sprinting the lanes hard and beating opponents down the floor.

On the downside, Early's skill-level is still very much a work in progress, which is a little disconcerting considering he's one of the older players projected to be drafted. Under 8% of his offense came in one on one situations, as his ball-handling skills are rudimentary at best, particularly with his left hand, and he's an extremely poor passer with a questionable feel for the game.

Early's 6.1% assist percentage is shockingly low for a player who is projected to see some time playing on the perimeter. The only small forwards drafted with a lower assist percentage in our database spanning back to 2001 (who played over 20 minutes per game in that college season) are Lazar Hayward, Al Thornton, Shabazz Muhammad, Dahntay Jones, Deshaun Thomas, Bobby Jones, Damion James and Maurice Ager. Even for a power forward that's a fairly low rate. In two seasons of college basketball he dished out 50 assists in 1966 minutes, which is about one for every 40 minutes he plays.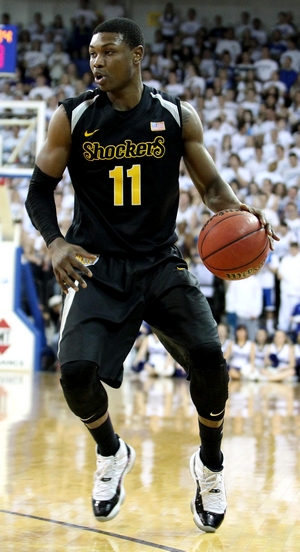 US Presswire



Starting his college career playing against lower-level division three junior college competition probably didn't do him many favors with his development, as he forces up tough shots in traffic and leaves a lot to be desired with the awareness and decision making skills he shows.

Defensively, Early will have an adjustment to make at the NBA level as well. Even though he can bend his knees and gets into an active stance, he struggles to stay in front of opposing players on the perimeter, getting blown by off the dribble far more often than you'd hope. While he has some nice moments on occasion, using his athleticism to make plays at the rim (1.2 blocks per-40) and in the passing lanes (1.2 steals per-40), he plays on his heels and loses his focus too easily, losing track of his man and struggling off the ball.

Early's status as the best player on one of the top teams in college basketball this season speaks for itself, as does the incredible improvement he made from the absolute lowest levels of organized college basketball to today.

While he's one of the oldest players projected to get drafted (he turns 23 on April 17th), the unique route he took and the progress he's made in the last two seasons will be encouraging to some NBA teams. While there is plenty to be skeptical about, it certainly won't hurt him that he played the best and last game of his career in a very memorable matchup against a future lottery pick in Julius Randle, posting 31 points on 12-17 shooting (4-6 3P). Wichita State's strength of schedule left a lot to be desired, so that outing could validate the season he had in the eyes of some NBA decision makers.

We've taken a more visual look at his strengths and weaknesses thanks to game film from Wichita State in the following video scouting report, courtesy of Mike Schmitz.



All of our video scouting reports this season can be found here.

[Read Full Article]

---
Top NBA Prospects in the Non-BCS Conferences, Part Two: (#6-10)
October 31, 2013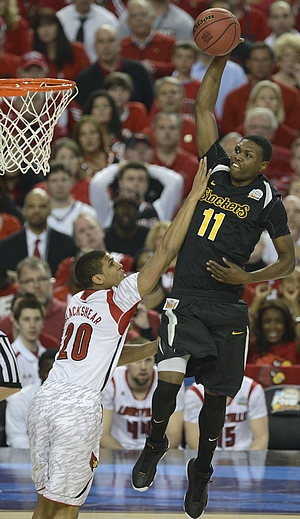 US Presswire



Derek Bodner

After being one of the top rated junior college players while at Division three Sullivan County Community College, forward Cleanthony Early made an immediate impact at Wichita State, culminating in an unexpected run to the final four that Early featured prominently in.

While Early was always likely to go the junior college route out of high school due to academic issues, family tragedy would ultimately influence his early college career, when his older brother died in an accident after Early's senior year of high school. Early would select Sullivan County, a DIII junior college, due to its proximity to his family. He dominated at that level, becoming the two time NJCAA DIII player of the year before transferring to Wichita State last year.

The lanky 6'8" forward worked his way into becoming a potent inside-outside threat for the Shockers, scoring 22.7 points per 40 minutes pace adjusted. He showed ability from both the inside, where his 1.2 points per possession on post-ups would rank as the highest level of efficiency for any player with at least 50 possessions used, and from the outside, shooting 32% from three point range on 3.8 attempts per game.

In the post, Early was incredibly efficient overall, thanks in large part due to the frequency with which he drew fouls from post-ups and how rarely he turned the ball over. That being said, his overall offensive repertoire isn't all that advanced down low, relying largely on a turnaround jump shot and a hook over his left shoulder. He has a quick spin move and gets off of his feet quickly, allowing him to get quality shots at the basket despite not having the most advanced footwork around. He's not all that developed in terms of lower body strength, and struggles to establish deep position or move defenders after receiving the entry pass, something that is sure to become even more pronounced at the next level.

Despite his efficiency on the block, he's a fairly low-usage post scorer at two possessions per game, which, while good that he plays within his limitations, also suggests this is something that is not likely to translate at a high volume once he goes up against stronger, more physical competition.

Early's overall a good athlete, and he uses this in transition, off of cuts to the basket, and offensive rebounds, which all represent a fairly sizable portion of his offense. Early pulls down a solid 3.7 offensive rebounds per 40 minutes pace adjusted, combining his explosive leaping ability with a relentless pursuit of the ball to generate extra possessions for his team.

Showing very little ability to create off the dribble and virtually nothing with his left hand, Early has a ways to go in terms of refining his perimeter skills. He's also an extremely poor passer, dishing out an assist on just 5% of his possessions last season, one of the worst rates among players classified as draft prospects.

His jump shot shows a little bit more progress, as he connected on 32% of his nearly 4 three point attempts per game. Perhaps more encouraging was him making nearly 80% of his free throws, although this by-and-large didn't translate into game action, as he connected on only 31% of his mid-range jump shots according to Synergy Sports Technology. His jump shot was incredibly streaky throughout the season, going through extended hot and cold periods that would seemingly come and go at a moment's notice. For example, Early had made only 2 of his previous 15 three point attempts heading into the NCAA tournament, then went 0-6 in the opening round victory over Pittsburgh. He responded by making 8 of his next 17 attempts from beyond the arc during Wichita State's run to the Final Four.

The overall form on his jump shot appears to be solid, albeit a bit long and deliberate, with a high release point and good follow through, suggesting that it could be something he becomes more consistent with if he is able to get enough repetition and put the necessary work in. Becoming more consistent with his jump shot is undoubtedly one of the keys for Early's development as a prospect, and something NBA scouts will be watching closely this season.

On the defensive end, Early is somewhat of a mixed bag. He's an active defender, with quick hands and ample length and athleticism to get the occasional block or deflection. He moves his feet fairly well on the perimeter and does a passable job defending the pick and roll, but would likely struggle initially if asked to defend the small forward position at the next level.

His lack of lower body strength comes into play quite a bit on this side of the court, as he struggles to hold position in the post and, perhaps most glaringly, on the defensive glass, where his 5.1 defensive rebounds per 40 minutes pace adjusted and 14.6% defensive rebounding rate were both very poor numbers. Besides physical attributes, Early doesn't appear to be all that instinctive of a defensive rebounder, and will not always show the best form or technique when boxing his man out. He'll frequently forget to locate his man when the shot goes up, and also tends to box out with his arms rather than getting good leverage, something even more important considering his slender build.

Cleanthony Early displays many of the problems typically associated with a 'tweener', lacking the lower body strength or technique to defend down low and without the foot speed or advanced perimeter skills to switch out to the perimeter. That being said, his athleticism and ability to score from both inside and out presents some intrigue, particularly if he could show more consistency on his perimeter shot going forward and become a little bit more comfortable creating off the dribble.

[Read Full Article]

---
NCAA Tournament NBA Draft Prospect Viewing Guide, Day Five
March 28, 2013
Cleanthony Early was huge last weekend for Wichita State, scoring 37 points in just 52 minutes, particularly with his long range shooting against Gonzaga, where he made 4 of his 7 3s. Early is a bit undersized for a power forward at 6-8 but is a versatile offensive player, capable of scoring both inside and out. He gets to the free throw line at a great rate, is a strong offensive rebounder, and brings a lot of toughness defensively like all of Gregg Marshall's frontcourt players. Early had hit just 2 of his last 21 3-point attempts before the Gonzaga game, and has been prone to streakiness from beyond the arc all season. Outside of an 11 day stretch where he hit 14/23 3s at the beginning of January, and last Sunday's game, he's shooting 23% on the year from 3-point range. Which Cleanthony Early will show up this weekend?

[Read Full Article]

---