Dante Exum
Recent Tweets
All Tweets
DraftExpress: When I first saw Ben Simmons playing two years ago (w\/Dante Exum and the Australia NT) he was strictly an athlete. Developed a floor game.
2014-07-17 22:22:24
DraftExpress: I personally think this is a great pick for Utah and love the fit between Dante Exum and Trey Burke. They complement each other beautifully.
2014-06-26 20:10:06
DraftExpress: With the #5 pick in the 2014 NBA Draft the Utah Jazz select Dante Exum. Will be interesting to see the fallout from this. He looks fine.
2014-06-26 20:06:38
DraftExpress: Where does Dante Exum go now? He refused to work out for Utah and did not want to get picked there because of "their market" and Trey Burke.
2014-06-26 20:04:26
DraftExpress: New on DX NBA Draft Media Day Interviews Dante Exum Julius Randle Marcus Smart http://t.co/0njeUe0KX7
2014-06-25 21:03:27
Team: Jazz
Physicals
Positions
Salary
Misc
H: 6' 6"
W: 196 lbs
Bday: 07/13/1995
(20 Years Old)

Current: PG/SG
NBA: PG/SG
Possible: PG/SG

Agent: Rob Pelinka
Current Salary:$3,615,000

High School: Australian Institute of Sport
Hometown: Melbourne, Australia
Drafted: Pick 5 in 2014 by Jazz

Predraft Measurements
| Year | Source | Height w/o Shoes | Height w/shoes | Weight | Wingspan | Standing Reach | Body Fat | No Step Vert | Max Vert |
| --- | --- | --- | --- | --- | --- | --- | --- | --- | --- |
| 2014 | NBA Draft Combine | 6' 4.5" | 6' 6" | 196 | 6' 9.5" | 8' 7" | 6.4 | 31.5 | 34.5 |
| 2013 | Hoop Summit | NA | 6' 6" | 188 | 6' 9.25" | NA | NA | NA | NA |



Basic Per Game Statistics

- Comprehensive Stats - Statistical Top 25s

Player Page&nbsp&nbsp| Player Stats | Mock Draft History | Related Articles&nbsp&nbsp| Add to My Draft Express&nbsp
&nbsp
2014 NBA Draft Media Day Interviews: Exum, Randle, Smart
June 25, 2014
[Read Full Article]

---
Dante Exum vs Team USA at the FIBA U19 World Championships
June 16, 2014
Taking a detailed, possession by possession look at how Dante Exum fared versus an absolutely stacked Team USA squad (featuring Marcus Smart, Elfrid Payton, Aaron Gordon and more) in their lone meeting at the FIBA U19 World Championships last July.

Boxscore from the game.


---
How Exum fared the rest of the Tournament:



Note: Exum averaged 25.5 points and 4.8 assists in the next four games after his encounter with Team USA, almost single handedly willing his team to the semi-finals and an eventual fourth place finish. These were essentially the last competitive games Exum played in before his eventual NBA debut next season, and thus a substantial part of his evaluation as a NBA prospect.

More situational analysis videos can be found in our comprehensive video section

[Read Full Article]

---
2014 NBA Combine Interview: Dante Exum
May 15, 2014
[Read Full Article]

---
2014 NBA Draft Combine Measurements Analysis
May 15, 2014
Dante Exum: Exum measured a legitimate 6-6 in shoes with an impressive 6-9 ╝ wingspan. Exum has great size for a shooting guard, let alone a point guard. The Australian combo guard also filled out his frame a bit, weighing in at 196 pounds, up eight pounds from the 2013 Nike Hoop Summit. Exum's closest physical comparison is Michael Carter-Williams, who measured 6-5 3/4 , 184 pounds with a 6-7 ╝ wingspan.

[Read Full Article]

---
Dante Exum Preseason Video Scouting Report
September 3, 2013
[Read Full Article]

---
Dante Exum Interview and Highlights
July 5, 2013
Dante Exum discusses in detail his thoughts regarding his college and NBA draft future in an interview we conducted with him in Portland at the Nike Hoop Summit. Also included are highlights of his play from the scrimmages and practices with the World Team.



[Read Full Article]

---
2013 FIBA U19 World Championship Interviews: Ennis, Milutinov, Exum
July 5, 2013
[Read Full Article]

---
Nike Hoop Summit Scouting Reports: Guards
April 23, 2013
Matt Kamalsky

Leading the 2012 U17 Australian National Team to a silver medal at the FIBA U17 World Championships last summer, which we attended and documented in depth, Dante Exum emerged as the next great prospect to come through the Australian Institute of Sport. Playing exceptionally well in the 2013 Nike Hoop Summit, the East Melbourne native reinforced his impressive NBA upside with his performance in front of the well over 100 NBA scouts who attended the World Select Team's practices throughout the week.

A 6'6 guard with 6'9 wingspan who appears to have added some 10 pounds of muscle to his frame since last summer, Exum stood out immediately with his speed, fluidity and ball-handling ability. Accustomed to playing the point guard position at the junior level, the strong play of floor general Dennis Schroder required Exum to adapt playing off the ball this week ľa challenge he accepted without a second thought in an effort to put his team in the best position to win.

A consummate team player who can do a little bit of everything, Exum still managed to be very effective for stretches in practice and score 16 points on game day despite the significant adjustment he had to make. Perhaps the most impressive thing Exum did throughout the week was get to the rim off the dribble. Without the ball in his hands constantly, Exum wasn't able to create as much on the offensive as we saw last summer, but still managed to make his presence felt attacking from the wing. Showing a very low dribble, an exceptional burst and the ability to finish above the rim, Exum is a very smooth finisher, but is not afraid to elevate in a crowd and draw contact either.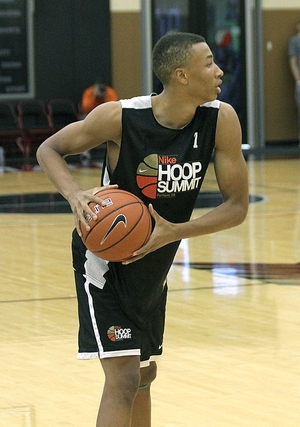 Tim Brown/OregonLive



At this stage, Exum's perimeter shooting remains his most glaring weakness. He shoots the ball from the perimeter with better balance than he did last summer, but his confidence and consistency still leave something to be desired. The next step for Exum as a prospect is becoming a more consistent threat from the outside, something that will give him a legitimate claim to being able to play both guard positions.



An adapt passer with speed to burn in the open floor, a great motor and an exceptionally high basketball IQ, the rest of the game comes easy to Exum. He plays with his head up, fills lanes on the break, and rebounds well for a guard. He's a versatile defender with great quickness, improving physical strength, and a team-first mentality.

The question for Exum moving forward is where he will hone his craft and what that means to his draft eligibility. Graduating from the AIS this year, Exum would be eligible to enroll at an NCAA program this winter, allowing himself to become eligible for the 2014 NBA Draft after the conclusion of his freshman year. He could also opt to attend prep school for a half season, let his recruiting ramp up, and enroll at a NCAA program for the full 2014-2015 season, making the 2015 NBA Draft the first he could enter.

At this point, Exum is unlikely to go pro and declare in 2014 as an international early entry prospect from what he told us. Intent on playing in the NCAA and continue to improve on his weaknesses, the question is when will he enroll and what school will make space for him. A coachable and extremely talented prospect with elite intangibles and a promising skill set, Exum is a player NBA teams will track closely regardless of where he ends up. That will start this summer when he leads the Australian U19 National team at the World Championship in Prague.

[Read Full Article]

---
2013 Hoop Summit World Select Team Measurements
April 16, 2013
Dante Exum
Height w/Shoes: 6'6
Weight: 188
Wingspan: 6'9.25

[Read Full Article]

---
Emptying the Notebook: Elite International Prospects Scouting Reports
October 19, 2012
Jonathan Givony

Strengths:
-Terrific size for a point guard at 6-4
-Nice wingspan. Good frame
-Extremely smooth, fluid athlete with unbelievable body control
-Great first step
-Tremendous creativity with the ball in his hands
-Gets extremely low to ground on drives. Terrific ball-handler. Changes speeds. Super long strides make him tough to stay in front of. Rangy drives. Gets to basket off one dribble
-Puts huge pressure on the defense. Draws tons of fouls
-Superb in transition
-Finishes elegantly around the basket, sometimes from far outside the paint. Uses reverse moves effectively
-Can finish above the rim
-Creates effectively for others. Unselfish player
-Excellent feel for the game. Everything comes incredibly easy
-Solid rebounder for position

Weaknesses:
-Struggles to make shots from outside
-Shooting mechanics are poor
-Needs to improve his ability to drive and finish with his left hand
-Must get stronger. Gets pushed around on defense at times
-Still working on decision making skills in the half-court- when to score and when to distribute. Not quite a pure point guard yet

Outlook: Big, smooth guard with tremendous ball-handling skills and creativity. Outstanding talent and clear-cut NBA prospect. If he can improve his jump-shot, the sky is the limit. Currently at the Australian Institute of Sport. Reportedly leaning towards college (2014 recruit), like his father, Cecil Exum, who won a national championship at North Carolina, and moved to Australia to play professionally. Good enough to play virtually anywhere, but likely best suited going somewhere where he'll be counted on as a primary ball-handler, despite his size.

Highlights/Interview:



[Read Full Article]

---