Jahii Carson
Recent Tweets
All Tweets
DraftExpress: Notable undrafted Patric Young Jabari Brown Khem Birch LaQuinton Ross Jahii Carson James McAdoo C.J. Fair DeAndre Kane Melvin Ejim
2014-06-27 00:10:11
DraftExpress: RT @Mike_Schmitz New @DraftExpress Preseason Scouting Video breaking down #ASU PG Jahii Carson http://t.co/TYbfkSinu0 #NBADraft
2013-09-29 15:17:13
DraftExpress: Jahii Carson (@Jahii_carson1) DX Video Interview from adidas Nations (a serious one this time) http://t.co/1NKypeKJhH
2013-08-28 11:58:16
DraftExpress: Spencer Dinwiddie (@SDinwiddie_25) Jahii Carson (@Jahii_carson1) Why was Bernard from FLORIDA GULF COST killing you? http://t.co/jKrCF9Mq7E
2013-08-28 11:35:03
DraftExpress: Jahii Carson (@Jahii_carson1) and Spencer Dinwiddie (@SDinwiddie_25) adidas Nations Smack Talk http://t.co/jKrCF9Mq7E http://t.co/0raYFRvjHN
2013-08-28 11:32:06
Team: Metalac
Physicals
Positions
Rankings
Salary
Misc
H: 5' 11"
W: 180 lbs
Bday: 08/31/1992
(23 Years Old)

Current: PG
NBA: PG
Possible: PG

RSCI: 35

Agent: James Dunleavy

High School: Mesa
Hometown: Phoenix, AZ

Predraft Measurements
| Year | Source | Height w/o Shoes | Height w/shoes | Weight | Wingspan | Standing Reach | Body Fat | No Step Vert | Max Vert |
| --- | --- | --- | --- | --- | --- | --- | --- | --- | --- |
| 2014 | NBA Draft Combine | 5' 9.75" | 5' 11" | 180 | 6' 2" | 7' 9" | 6.5 | 33.5 | 43.5 |
| 2013 | LeBron James Camp | NA | 5' 11" | 179 | 6' 1" | NA | NA | NA | NA |
| 2013 | PG Skills Acad | NA | 5' 11" | 179 | 6' 1" | NA | NA | NA | NA |
| 2011 | Deron Williams Camp | NA | 5' 11" | 167 | 6' 1" | NA | NA | NA | NA |
| 2010 | LeBron James Camp | NA | 6' 3" | 167 | 6' 1" | NA | NA | NA | NA |
| 2010 | NBA Top 100 Camp | 5' 11" | NA | 165 | 6' 1" | 7' 7.5" | NA | NA | NA |



Basic Per Game Statistics

- Comprehensive Stats - Statistical Top 25s
| Year | League | Name | GP | Min | Pts | FG | FGA | FG% | 2Pt | 2PtA | 2P% | 3Pt | 3PtA | 3P% | FTM | FTA | FT% | Off | Def | TOT | Asts | Stls | Blks | TOs | PFs |
| --- | --- | --- | --- | --- | --- | --- | --- | --- | --- | --- | --- | --- | --- | --- | --- | --- | --- | --- | --- | --- | --- | --- | --- | --- | --- |
| 2014/15 | Adriatic | Jahii Carson | 1 | 7.0 | 0.0 | 0.0 | 2.0 | 0.0 | 0.0 | 2.0 | 0.0 | 0.0 | 0.0 | &nbsp | 0.0 | 0.0 | &nbsp | 0.0 | 0.0 | 0.0 | 0.0 | 0.0 | 0.0 | 1.0 | 0.0 |

Player Page&nbsp&nbsp| Player Stats | Mock Draft History | Related Articles&nbsp&nbsp| Add to My Draft Express&nbsp
&nbsp
2014 NBA Combine Interviews: Antetokounmpo, Powell, Carson
May 19, 2014
[Read Full Article]

---
Jahii Carson Scouting Report and Video Breakdown
April 14, 2014
Scouting Report by Josh Riddell. Video Breakdown by Mike Schmitz

After playing in the NIT his freshman season, Jahii Carson was able to help the Arizona State Sun Devils to the NCAA tournament, although they fell in the first round to Texas. Carson had an up and down season, and won't be entering the draft with a great deal of momentum.
---
-P.J. Hairston Scouting Report and Video Breakdown
-Zach LaVine Scouting Report and Video Breakdown
-Artem Klimenko Scouting Report and Video Breakdown
-Tyler Ennis Scouting Report and Video Breakdown
-Rodney Hood Scouting Report and Video Breakdown
-Doug McDermott Scouting Report and Video Breakdown
-Andrew Wiggins Scouting Report and Video Breakdown
-Elfrid Payton Scouting Report and Video Breakdown
-Marcus Smart Scouting Report and Video Breakdown
-NBA Draft Prospect of the Week: C.J. Wilcox (Video Scouting Report)
-NBA Draft Prospect of the Week: T.J. Warren (Video Scouting Report)
-NBA Draft Prospect of the Week: A.J. Hammons (Video Scouting Report)
-NBA Draft Prospect of the Week: K.J. McDaniels (Video Scouting Report)
-NBA Draft Prospect of the Week: Deonte Burton (Video Scouting Report)
-NBA Draft Prospect of the Week: Noah Vonleh (Video Scouting Report)
-NBA Draft Prospect of the Week: Nik Stauskas (Video Scouting Report)
-NBA Draft Prospect of the Week: Aaron Gordon (Video Scouting Report)
-NBA Draft Prospect of the Week: Clint Capela (Video Scouting Report)
-NBA Draft Prospect of the Week: Thanasis Antetokounmpo (Video Scouting Report)
-NBA Draft Prospect of the Week: Shabazz Napier (Video Scouting Report)
-NBA Draft Prospect of the Week: Bogdan Bogdanovic (Video Scouting Report)
-NBA Draft Prospect of the Week: Joel Embiid (Video Scouting Report)
-NBA Draft Prospect of the Week: Julius Randle (Video Scouting Report)
-NBA Draft Prospect of the Week: Jabari Parker (Video Scouting Report)
-Revisiting Giannis Antetokounmpo (Video Scouting Report)
-Revisiting Damian Lillard (Video Scouting Report)
-Revisiting Nikola Mirotic (Video Scouting Report)
-Revisiting Alexis Ajinca (Video Scouting Report)
---
At only 5'11" and 167 pounds, Carson will be at a major disadvantage from a physical standpoint in the NBA, as he will be one of the smallest players in the league. Only five players have been drafted since 2000 under six foot and only three (D.J. Augustin, Shane Larkin and Nate Robinson) have seen playing time this season. Carson is a tremendous athlete and will be one of the fastest players in the league, as he is a blur with the ball in his hands and loves to beat the defense down the floor to get easy transition baskets, possessing the ability to change speeds in the blink of an eye. He also has great leaping ability, regularly dunking the ball when he has an open lane to the rim.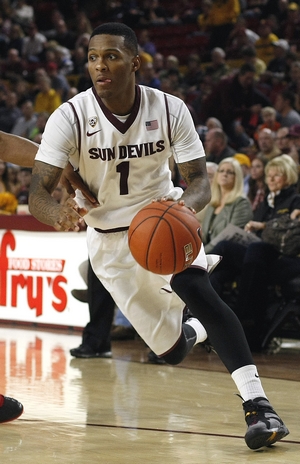 US Presswire



Carson had one of the highest usage rates of any player in the nation last season at 31%, which ranked fourth among players in our top-100 prospects. He struggled from two point range, converting only 44% on these attempts (third lowest among collegiate Top-100 prospects), but he was relatively effective from 3-point territory, where he shot 39.1% on three attempts per game. He is very solid with his feet set and is capable of stretching the floor when the ball is not in his hands, which doesn't happen all that often.

Where Carson must improve is with his off the dribble shooting, as he converted a paltry 31% of these attempts (26/84) last season according to Synergy Sports Technology. His lack of size makes it difficult for him to get off clean looks, but he will need to find a way to punish defenders going under ball screens to cut off his driving lanes, something he struggled with quite a bit in college.

Offensively, one of Carson's biggest strengths is his ability to get to the rim in the halfcourt. He complements his elite speed with excellent moves off the dribble, including a crossover, behind the back dribble and a hesitation move, but his size hinders his ability to finish at the rim or find teammates once the defenses collapses. He is starting to become more adept at using a floater or runner when he gets into the lane but he needs to improve his touch to become more efficient on these attempts. According to Synergy, he shot 34% on 100 such attempts—which is not a great rate at all. Without an effective floater, he will likely struggle to score inside the arc over NBA defenders.

Very ball-dominant in his two seasons at Arizona State, Carson struggled to show translatable point guard skills on a consistent basis. He had trouble distributing the ball to his teammates, often struggling to make even the easiest of passes around the arc by putting either too much force into his passes or lazily throwing them in difficult places to catch. Not only did he average only only 5.0 assists per 40 minutes paced adjusted, which ranked 11th of the 15 collegiate prospects in our Top-100 rankings, he also had the second most turnovers, 3.8 per 40 minutes pace adjusted. He ranks 12th of the 15 point guards in our Top-100 prospect rankings in both assist to turnover ratio and pure point rating. He will need to try to distribute the ball more often in the NBA, looking to get his teammates more involved in half-court opportunities. This is especially true in ball screen situations, where he looked for his own offense more often than not, but will need to become better at reading the defense and making the right decision at the next level.

Carson will likely struggle defensively in the NBA, due mainly to his size limitations but he doesn't put out consistent effort to make up for his deficiencies. He has quick feet, which help him move laterally quickly but he still struggles to keep up with bigger players and cut off penetration. Even if he is able to stay in front of the offensive player, his opponent will be able to easily pull up and shoot over him with little trouble.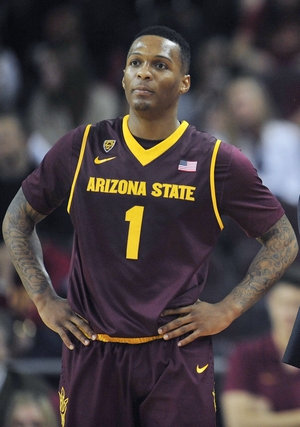 US Presswire



There are also some question marks regarding Carson's character, as he reportedly did not always see eye to eye with the coaching staff and has developed a bit of a reputation for not being a great teammate.

Carson's freakish athleticism will give him a chance to stick if he's able to improve defensively and cut down on his turnovers, as he wouldn't be the first smaller guard to make it in today's NBA. He has a bit of an uphill battle at this stage and won't get the benefit of being considered to have upside to grow into, despite playing only two seasons of college basketball, as he turns 22 in August and is thus the same age as many seniors in this draft.

We've taken a more visual look at his strengths and weaknesses thanks to game film from his college basketball season in the following video scouting report, courtesy of Mike Schmitz.


All of our video scouting reports this season can be found here.

[Read Full Article]

---
Top NBA Prospects in the Pac-12, Part 1: Jahii Carson Scouting Video
September 28, 2013


Mike Schmitz is the video analyst for DraftExpress. Follow him on twitter and subscribe to the DraftExpress YouTube page. He will be breaking down the NBA draft in digital format all year long for us.

[Read Full Article]

---
Jahii Carson Video Interview
August 28, 2013
Jahii Carson of Arizona State talking with Jonathan Givony of DraftExpress about his aspirations as an NBA player, his time in school, and what he needs to work on to take his game to the next level. From the 2013 adidas Nations.



[Read Full Article]

---
Jahii Carson and Spencer Dinwiddie - 2013 adidas Nations Smack Talk
August 28, 2013
[Read Full Article]

---
Trending Prospects: Jahii Carson
February 8, 2013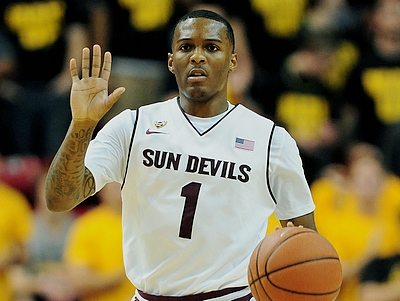 US Presswire



Joe Treutlein

After sitting out what would've been his freshman season at Arizona State last year due to academic eligibility issues, Jahii Carson has been doing a great job making up for lost time this season, leading the Sun Devils in points, assists, and minutes while playing effective, high energy basketball on both sides of the court.

Standing 5'11 with an excellent first step to go along with great explosiveness and quickness for a point guard, Carson is an outstanding athlete, albeit an undersized one both in terms of height and stature. His frame doesn't appear like it could add much more bulk comfortably, but to Carson's credit, he plays with a mean streak in the half court and is stronger than he appears at first glance.

Carson plays a relentless, attacking style in the half court, utilizing a terrific first step combined with his tight, advanced ball-handling to get wherever he wants on the court with ease. He operates with the ball in his hands very often, while seeing the bulk of his plays coming out of pick-and-roll or isolation opportunities. Carson shows an exceptional feel for finding ways to get open off the dribble, especially within 15 feet of the basket, where he shows a strong degree of craftiness and excellent footwork, which he uses to frequently get his man off guard.

Carson sees most of his scoring attempts driving into the paint, where he's equally capable of going strong to the rim or pulling up for a floater, runner, or pull-up jumper. His mid-range game is highly advanced, as he shows excellent touch and finishing ability on his scoring attempts in the lane, while showing little problems getting shots off against any level of competition.

Carson's ability to finish directly at the rim is more of a mixed bag, as his diminutive size is certainly a disadvantage, but he makes up for it by drawing contact at a high rate (his 0.45 FTA/FGA is excellent for a point guard) and almost always taking the most direct line to the basket from wherever he is on the floor. He shows a very fearless nature with the ball in his hands and rarely takes wide angles trying to get around defenders, which is how he manages to frequently knife through defenses when openings didn't even appear to be there.

The area of Carson's offensive game that is lacking the most right now is his perimeter jump shot, especially of the catch-and-shoot variety. Carson is not reliable shooting the ball from deep (he's shooting just 30% from three on 3.2 attempts per game thus far), showing inconsistent mechanics and not frequently seeing the ball in spot-up situations. He does show some ability to hit pull-up jumpers coming around screens in pick-and-rolls, but is still very inconsistent there, and this is probably the area he could stand to improve the most on going forward. Given his size and the question marks about how his ability to finish inside the paint and draw fouls could translate to higher levels of competition, this is something he should make a priority.

As a point guard, Carson falls into the ball-dominant variety, creating almost all of his own shots and spending a lot of time dribbling the ball on the perimeter, but he's not a selfish player by any means, and he shows good court vision and ability to set up teammates, mostly through pick-and-rolls, drive-and-dishes, and by getting out in transition. He does a good job of finding open shooters on the perimeter, and always has his head up with the ball in every situation, while he's posting a solid 5.1 assists per game in 36 minutes. His 3.2 turnovers per game may be alarming at first glance, but his 0.18 turnovers per possession are actually not that bad considering the amount of offensive responsibility he shoulders in the Sun Devils' offense.

On the defensive end, Carson plays with a high level of energy, getting into an aggressive stances early and fighting hard to stick with his man off the ball. He shows a very good level of lateral quickness and a solid fundamental base, sticking with his man in isolation situations the majority of the time. He can lose focus at times if possessions tend to drag on for too long, but not any more than your average freshman. Carson's size can get him into trouble at times defending the pick-and-roll, as he can get caught on screens against bigger opponents, but he is very good about fighting through and chasing his man from behind even after he's lost a step.

Another thing worth noting is despite being a freshman, Carson is playing a sky-high 36.4 minutes per game while being his team's clear-cut first option on offense who has the ball in his hands constantly, and he's also expending a nearly equal amount of energy on the other end of the floor every game, so it's safe to say his conditioning and work ethic are both superb.

Looking forward, Carson brings an intriguing package of skills to the table with his athleticism, shot-creating, and shot-making abilities on offense, while he also shows promise as a distributor and defender. His size will always be a concern, but its effect is lessened due to his aggressive style of play, and players in his mold have done a good job finding niches in the NBA in recent years since the relaxing of perimeter defense rules. Carson could definitely help himself greatly by rounding out his offense with a more potent perimeter jumper, as doing so would both ease concerns about how his game could translate to the pros, while also further opening up his dribble-drive game at this level, as teams would have to pay more respect to his shot. How that area of his game develops will likely be critical in determining just what level of prospect Carson is, something we'll probably need another year to fully decipher. Turning 21 in August, Carson is quite a bit older than your typical freshman, but he's still somewhat under the radar of many NBA scouts due to his lack of size and experience.

[Read Full Article]

---