LaQuinton Ross
Recent Tweets
All Tweets
DraftExpress: Notable undrafted Patric Young Jabari Brown Khem Birch LaQuinton Ross Jahii Carson James McAdoo C.J. Fair DeAndre Kane Melvin Ejim
2014-06-27 00:10:11
DraftExpress: Life Center Academy gets upset win over St. Mark's. Good game. LaQuinton Ross finishes w/26 points. Alex Murphy 9. Tarczewski 15+ 10 blocks?
2011-01-16 12:19:35
DraftExpress: LaQuinton Ross of 1st half: McDonald's All-American. LaQuinton Ross of 2nd half: Underacheiver who just floats around aimlessly.
2011-01-16 12:05:48
DraftExpress: LaQuinton Ross has scored just two points this half. Intensity level has been zero. Totally apathetic. Team still up 65-61 w/4 min left.
2011-01-16 12:03:09
DraftExpress: Big upset brewing. At half: Life Center 44-St Mark's 35. LaQuinton Ross 21 pts, 4-5 3P. Murphy 7 pts, 2 ass, 4 TO,Tarczewski 1 point, 5 blks
2011-01-16 11:34:37
Team: Cantu
Physicals
Positions
Rankings
Salary
Misc
H: 6' 7"
W: 239 lbs
Bday: 11/18/1992
(23 Years Old)

Current: SF
NBA: SF
Possible: SF

RSCI: 32

Agent: Sean Kennedy

High School: Life Center Academy
Hometown: Jackson, MS

Predraft Measurements
| Year | Source | Height w/o Shoes | Height w/shoes | Weight | Wingspan | Standing Reach | Body Fat | No Step Vert | Max Vert |
| --- | --- | --- | --- | --- | --- | --- | --- | --- | --- |
| 2014 | NBA Draft Combine | 6' 6.5" | 6' 7.5" | 239 | 7' 1.75" | 8' 10" | 16.3 | 25.0 | 31.0 |
| 2013 | Kevin Durant Camp | NA | 6' 7" | 227 | 7' 1" | NA | NA | NA | NA |
| 2012 | LeBron James Camp | NA | 6' 7" | 228 | 7' 0.5" | NA | NA | NA | NA |
| 2012 | Kevin Durant Camp | NA | 6' 7" | 228 | 7' 0.60" | NA | NA | NA | NA |
| 2010 | LeBron James Camp | NA | 6' 8" | 217 | 6' 11" | NA | NA | NA | NA |
| 2010 | Kevin Durant Camp | NA | 6' 8" | 217 | 6' 11" | NA | NA | NA | NA |
| 2010 | NBA Top 100 Camp | 6' 6" | NA | 219 | 7' 0.5" | 8' 8" | NA | NA | NA |



Basic Per Game Statistics

- Comprehensive Stats - Statistical Top 25s
| Year | League | Name | GP | Min | Pts | FG | FGA | FG% | 2Pt | 2PtA | 2P% | 3Pt | 3PtA | 3P% | FTM | FTA | FT% | Off | Def | TOT | Asts | Stls | Blks | TOs | PFs |
| --- | --- | --- | --- | --- | --- | --- | --- | --- | --- | --- | --- | --- | --- | --- | --- | --- | --- | --- | --- | --- | --- | --- | --- | --- | --- |
| 2015/16 | Italian | LaQuinton Ross | 9 | 30.3 | 12.8 | 4.0 | 11.8 | 34.0 | 3.1 | 8.2 | 37.8 | 0.9 | 3.6 | 25.0 | 3.9 | 5.0 | 77.8 | 1.9 | 5.7 | 7.6 | 1.3 | 0.7 | 0.3 | 2.4 | 1.2 |

Player Page&nbsp&nbsp| Player Stats | Related Articles&nbsp&nbsp| Add to My Draft Express&nbsp
&nbsp
2014 NBA Combine Interviews: Craft, O'Bryant, Ross
May 22, 2014
[Read Full Article]

---
LaQuinton Ross Updated Scouting Report
April 29, 2014
Josh Riddell

After a breakout performance in the 2013 NCAA tournament, LaQuinton Ross was charged with being the top offensive weapon for the Ohio State Buckeyes after the departure of Deshaun Thomas. Ross saw his minutes increase from 16.9 to 29.0 per game, while his offensive role ramped up, as he used 20.7% of the Buckeyes' overall possessions per game, up from 12.0% his sophomore year. Ohio State's season ended in somewhat disappointing fashion in a Round of 64 NCAA Tournament exit to Dayton, and the Big 10 All-Conference Third team member decided to enter the NBA draft after his junior season, despite the mixed reviews his junior year received.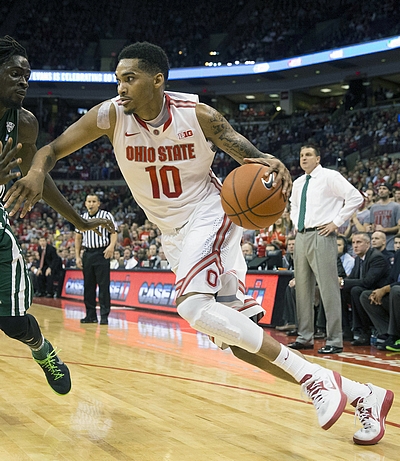 US Presswire



Reading back through our previous reports about Ross, many of the same thoughts still apply as he heads toward the draft. His physical tools are strong for a player of his size, as his 7'1" wingspan complements his 6'7" (possibly 6-8) height, even if he isn't what you'd describe as an exceptional athlete. The 21-year old still has some room to add some muscle to his frame, which he'll certainly need to do in the more physical NBA.

A significant part of Ross' success at the NBA level will likely hinge around his ability to shoot the ball from the perimeter, something he's clearly capable of doing but has been rather streaky with over the course of his career. He converted a decent 36.8% of his catch and shoot opportunities on the season, down from 39% his sophomore year. He has a very fluid stroke and his high release point prevents his shot from being contested easily, which suggests he could improve in this area in time as he clearly has excellent scoring instincts.

Ross attempted 3.4 three pointers per game this season and converted on just 35.3% of these attempts, which rates around the middle of the pack compared with other small forwards in our top-100 prospect rankings.

Since he is a capable shooter, defenders often have to charge at Ross when they see him spotting up for a jump shot. This allows Ross the space to drive by them after a ball fake, but Ross hasn't been able to become a skilled jump shooter off the dribble, shooting only 21% on 38 possessions logged by Synergy Sports Technology. This will be a critical skill for him at the next level so that he has a second option when defenders take away the three point shot.

Elsewhere on the offensive end, Ross doesn't do anything exceptionally well that will be easily translatable to the NBA, as he was clearly thrust into too large a role for Ohio State that he simply wasn't ready for quite yet. He doesn't have a quick first step, as he relies on his long strides to break down the defenders off the dribble, and struggles somewhat finishing around the basket this season, converting just 48% of his half-court attempts inside the paint, a very poor rate.

He was able to keep his scoring somewhat reasonable (55% true shooting percentage) despite his struggles inside (48.5% 2P%) and outside the arc (35%) thanks to his propensity to get to the foul line, as his 6.7 free throw attempts per 40 minutes ranked seventh among small forwards in our top-100 prospect rankings. With that said, it's not clear how this might translate to the NBA considering his average athleticism and underdeveloped frame, especially once he's forced to move down a position or two and play the small forward position full time, something he rarely did in college.

If unable to put points up on the board in any particular game, there isn't a great deal Ross can help his team with otherwise. He does an exceptionally poor job of creating offense for his teammates, as he generated an assist on just 6% of his possessions this season, totaling just 47 assists in 1676 career minutes, or one every 36 minutes he's on the floor.

Ross's combination of length and height provides the basis for his defensive potential at this stage. Due to the team makeup of the Buckeyes this year, Ross found himself guarding bigs in the post regularly, where he was often overmatched from a strength perspective. At the next level, he will be guarding perimeter players more often and while he showed some improvement over the past season, he still has some major strides to make to become even an adequate defensive player. His effort when guarding perimeter players was better in his junior season, as he made a more concerted effort to be in a fundamental stance, which helped contain dribble penetration, but he too often loses his focus and thus got targeted by opposing coaching staffs frequently in one on one situations due to his lack of lateral quickness. He still struggles against smaller players and will need to put forth consistent effort, both on and off the ball, so that he doesn't hurt his team defensively.

Ross has a chance to hear his name called on draft night due to his combination of size, length and shooting potential. To stick in the league, he will need to continue to diversify his game and become a more efficient offensive player. At the same time, he will need to put forth consistent effort on the defensive end. If he does so, he could have a career as a role player in the right situation, but he will need to do so quickly, as he won't be considered a high-upside prospect, turning 22 later this year, and Europe and the NBA D-League are littered with players in his mold.

[Read Full Article]

---
Top NBA Draft Prospects in the Big Ten, Part 6 (#6-10)
September 21, 2013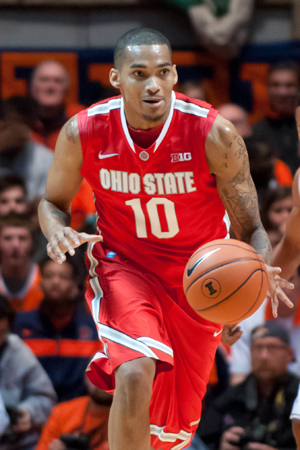 US Presswire



Jonathan Givony

Playing time in college hasn't been easy to come by for highly regarded member of the 2011 high school class LaQuinton Ross. He was deemed ineligible for the first semester of his freshman season due to academic issues stemming from his high school transcript, ending up playing just 35 total minutes in 2011/2012 after being eligible at the winter break.

He averaged 17 minutes per game this past season, seeing his playing time fluctuate wildly all year long—3 minutes against Michigan, 5 minutes against Northwestern, 9 minutes against Purdue, Kansas and Illinois—but still was able to make a huge impact in the NCAA Tournament, scoring 53 points in 61 minutes of action in the Elite 8, Sweet 16 and Round of 32 combined.

Ross' inconsistent minutes didn't stop him from being extremely aggressive every time he stepped out on the court. He sported almost the same usage rate as the ultra-assertive Deshaun Thomas, the #1 scorer in the Big Ten.

It's easy to see why recruiting analysts fell in love with him from a very early age, touting him as the #1 prospect in his high school class. He has great size and length for a small forward to compliment his terrific scoring instincts. And his frame continues to fill out nicely, even if he's not an exceptional athlete. He sports an average first step and is not terribly explosive around the basket.

Ross scored an impressive 20 points per-40 minutes last season, doing so in a fairly efficient manner (52% 2P%, 39 3P%), despite not getting to the free throw line all that frequently. Mostly used as an off the ball threat, he saw the bulk of his offensive possessions in spot-up situations, spacing the floor for Ohio State from the 3 and 4 positions. His best asset is clearly his outside shot, as he made 39% of his jump-shots last year, mostly being of the catch and shoot variety. He sports a very smooth stroke with a high release point that allows him to get his shot off with relative ease thanks to his superior size, even if he does not possess the quickest release.

When Ross does put the ball on the floor, it's usually after a convincing head or shot-fake, which he uses to open up driving angles for himself. The high release point on his very consistent catch and shoot jumper forces defenses to close out very aggressively on him. Ross has very nice footwork and timing on his drives, navigating his way into the paint smoothly and elegantly, even if he can't always finish what he creates.

Ross is just an average finisher around the basket at this stage, making 52% of his attempts around the rim in the half-court, and not drawing fouls at a great rather either. He doesn't do a great job of finishing through contact at the moment, lacking the strength, toughness and explosiveness needed to power through opponents at the basket.

Ross is also not a great passer, as he generates an assist on just 6% of his possessions, a lower rate than any of the returning guard, wing or forward prospects in our top-100 rankings.

The biggest reason Ross' playing time fluctuated as much as it did in his first two years at Ohio State was his inconsistent intensity on the defensive end. He was an almost comically poor defender in high school, putting in virtually no effort whatsoever before arriving at Ohio State, and has gradually made some strides here, although probably not as much as Thad Matta would like him to.

Still not particularly fundamentally sound, Ross can make some impressive plays from time to time thanks to his terrific combination of size, length and timing, blocking shots on the ball inside the paint and contesting jumpers on the perimeter with his long reach.

When forced to defend smaller and quicker small forwards, he can look very upright in his stance on the perimeter. His lack of awareness and focus doesn't help either, as he tends to fall asleep at times and can get lost off the ball, even if his intentions appear to be good he's not always 100% in the game it seems mentally.

With 20 point per game scorer Deshaun Thomas off to the NBA, Ohio State will almost certainly need Ross to emerge as a consistent contributor and give them some much-needed offensive firepower. It will be interesting to see if Ross can fully earn the trust of Coach Matta, and whether he's given the freedom to handle the ball more and make decisions offensively.

Ross is one of the more talented small forward prospects in all of college basketball, but many of the concerns we discussed when we first wrote about him five years ago as a fifteen year old continue to be issues today. If he matures and is able to take the next step in his development, getting drafted in the first round is certainly not out of the question considering his scoring prowess.

[Read Full Article]

---
HoopHall Classic Scouting Reports: Elite Prospects (Part Two)
January 22, 2011
Jonathan Givony

A year and a half after our last scouting report update, LaQuinton Ross' (#60 Scout, #53 Rivals, #64 ESPN) strengths and weaknesses are looking abundantly clear.

His frame is filling out nicely since we last saw him, as he's sporting a pretty developed upper body and now stands around 6-8. More smooth than he is explosive, Ross can create his own shot with ease, showing very nice ball-handling skills for a player his size. He mostly uses his dribble to find space to get off a beautiful looking jumper, which he can hit both off the dribble or with his feet set.

Ross buried a barrage of shots in the first half, scoring 21 points in 16 minutes. Some of them were extremely tough looks which, in Ross' unique way—expressionless and effortless--he converted with incredible ease. His shooting ability at his size alone makes him a very intriguing prospect, but he can do more than that, especially when he applies himself.

As a slasher, Ross can get to different spots on the floor, showing nice ball-handling skills and the ability to create shots for teammates. He's more likely to pass the ball off or pull-up for a jumper than make a strong move all the way to the basket, though, as he's overly unselfish (or passive) to a fault at times, and is lacking a degree of explosiveness and aggressiveness as well.

Defensively, Ross hasn't made very much progress since we last saw him, as he still shows extremely poor fundamentals and puts little to no effort in on this end of the floor. His arms are always at his sides and he never bends his knees, having no qualms about allowing his man to catch the ball wherever it is on the floor that he desires. Ross will need to make some huge strides with his off the ball defense if he's to see any playing time at all at Ohio State under Thad Matta. He'll also have to start boxing out his man and get back quicker on defense.

What's interesting is that Ross actually has very nice instincts on this end of the floor, as he anticipates well in the passing lanes and has terrific timing coming up with blocks. He just needs to improve his fundamentals and play with much more intensity, which may be easier said than done.

Ross is the type of player whose career could still go in many different directions, as its clear that he is incredibly far ahead of the curve in many areas, but is also well behind in many others. Going to play for a coach like Thad Matta at Ohio State might be the best decision he ever made, but there are many recruiting analysts that question whether he'll actually last there.

It might be just a matter of time and maturity until the light-bulb comes on for Ross, but judging by the way he's dropped in the recruiting rankings—from once being considered the #1 prospect in his class to now finding himself well out of the top-50—and the fact that he's a year or two older than his peers, he has many more doubters than believers at this point.

[Read Full Article]

---
Initial High School Player Scouting Reports, Part One
August 14, 2009
One year after evaluating LaQuinton Ross for the first time, we haven't seen a great deal of change in his game. He's still the same ultra-sized and very smooth wing player with unremarkable athleticism, and he's still extremely skilled for his age. Ross has solid ball-handling skills for his height, yet they are still improvable. He's capable of pulling up smoothly off the dribble from mid-range when the situation calls for it, and has a very nice stroke from beyond the arc as well, even looking adept at coming off screens. His shot-selection left something to be desired, but he did make some nice passes at times and generally looked more mature.

Ross doesn't know how to use his size to post up smaller players, though, and seems to show a very concerning lack of aggressiveness in general on the offensive end, looking far too passive at times and way too content just letting things come to him. He surely lacks a bit of fire and toughness to his game.

Defensively, Ross' fundamentals are still fairly poor, although he does seem to be putting in slightly better effort than we remembered. He gets beat off the dribble fairly easily still, though, and it's not quite clear what position he'll be able to defend at the collegiate level, although his length and excellent instincts getting in the passing lanes do help out.

Ross was a very highly touted player from an extremely young age, but there are some concerns that he's not improving as quickly as some of his peers and that his mentality leaves something to be desired. He's still far too young of a prospect to write off, and we'll have to see what he looks like after another year of high school basketball next summer.

[Read Full Article]

---
adidas Nations Experience: 2010/11 High School Prospects
August 20, 2008
The adidas Nations gave us a better opportunity to evaluate LaQuinton Ross' game than we were able to in Las Vegas, allowing us to pick up a few more things that we might not have seen initially. Again it was hard not to notice how impressive of a scorer Ross is for such a young player, mainly because of the natural instincts he already displays. He has a super low dribble considering that he's 6-8 and 15 years old, which allows him to create shots with ease from the perimeter and get to the rim. His body control in the lane is very impressive as well, and he generally makes everything look very easy even when executing very difficult moves.

On the downside, Ross plays absolutely zero defense, to the point that it's almost laughable at times how easily his lets his opponent score. He gave up deep position in the paint time after time to basically anyone that wanted to post him up, and offered such little resistance that it was almost impossible for them not to score. He also didn't show much in the ways of passing ability, looking to go one on one pretty much anytime he got the ball on the wing, even if there were multiple defenders around him.

You don't get the feeling that Ross is a selfish player or a bad kid—it just seems like he's received little to no coaching at this point in his development and thus is living strictly off his instincts. He's apparently transferring to a bigger school next year, Word of God Christian Academy, where he'll be playing with John Wall and a number of other highly regarded prospects, so that might end up being a good thing for him in order to develop his all-around game. There is absolutely no question that the sky is the limit on his potential, but he can absolutely not buy into his own hype just yet.

Editor's Note: We've been informed that Ross is actually a year older than his class, as he's turning 17 in November.[/b]

[Read Full Article]

---
adidas Nations Experience 2008: NCAA Counselors,High School Interviews
August 12, 2008
[Read Full Article]

---
Initial Scouting Reports, High School Classes of 2010 and 2011
August 1, 2008
Considered (for some time now) by some to be the top prospect in the entire 2011 class, we may have caught LaQuinton Ross on a bit of a down day it seems. In terms of talent and upside, there is no mistaking what we have on our hands here. Ross is a legitimate small forward prospect in the Anthony Randolph mold, despite standing 6-8, which gives him tremendous size to play on the perimeter. He is extremely athletic with long arms and terrific scoring instincts, which immediately becomes evident when you see how he operates on the court. Ross can create his own shot with ease from the perimeter thanks to his strong ball-handling skills, either to take the ball all the way to the basket and finish with excellent body control, or pull-up off the dribble smoothly with a nice looking mid-range stroke. He can post up a bit and utilizes quick and slithery spin moves to get around players and then lay the ball in. The game obviously comes very easy for him, even if there is still a lot of room for improvement.

Ross' decision making looked very poor when we saw him—as he easily lost focus, got frustrated with his teammates, and generally displayed very poor body language. He seems to complain a lot when things don't go his own way, and showed a distinct lack of effort in terms of doing the little things to help his team get back in the game. His rebounding looked sub-par (not boxing out) and his defense non-existent (even if his length and lateral quickness give him lots of potential here), and his shot-selection offensively left a lot to be desired. Ross perimeter stroke needs a lot of work it seems—he had trouble knocking down free throws from what we could tell too. Ross' fundamentals in general are not the best—he obviously has a world of talent but still needs to learn to bring it all together.

6-8 perimeter players who can score the way Ross can in a variety of ways and are still so young will always draw a tremendous amount of attention from a very early age. He's not a finished product by any stretch, though, and still has a long ways to go before being ready to justify the hype that's being thrown at him right now. We will have to keep watching him over the next few years and see how he's progressing.

[Read Full Article]

---