Mitch McGary
Recent Tweets
All Tweets
DraftExpress: RT @NicoleAuerbach Michigan announces Mitch McGary has been limited in practice due to \u201clower back condition.\u201d Trainers monitoring progres\u2026
2013-09-27 17:53:37
DraftExpress: Michigan announces Mitch McGary has been limited in practice due to \u201clower back condition.\u201d Trainers monitoring progress.
2013-09-27 14:58:28
DraftExpress: Video scouting report with a thorough breakdown of Mitch McGary's strengths and weaknesses http://t.co/ow8DQQbazZ
2013-09-17 17:59:22
DraftExpress: Top NBA Prospects in the Big Ten Part 2 Mitch McGary Scouting Video http://t.co/ow8DQQbazZ. #1 was Glenn Robinson http://t.co/GXlthTtsun
2013-09-17 08:50:35
DraftExpress: Also at the Nike Skills Academy Noah Vonleh Jahii Carson Mitch McGary Willie Cauley-Stein Juvonte Reddic Khem Birch and many more.
2013-06-26 17:28:50
Team: Thunder
Physicals
Positions
Rankings
Salary
Misc
H: 6' 10"
W: 263 lbs
Bday: 06/06/1992
(23 Years Old)

Current: C
NBA: C
Possible: C

RSCI: 27

Agent: Mark Bartelstein
Current Salary:$1,400,040

High School: Brewster Academy
Hometown: Chesterton, IN
Drafted: Pick 21 in 2014 by Thunder

Predraft Measurements
| Year | Source | Height w/o Shoes | Height w/shoes | Weight | Wingspan | Standing Reach | Body Fat | No Step Vert | Max Vert |
| --- | --- | --- | --- | --- | --- | --- | --- | --- | --- |
| 2013 | LeBron James Camp | NA | 6' 10.5" | 266 | 6' 11.5" | NA | NA | NA | NA |
| 2013 | Big Man Skills Acad | NA | 6' 10.5" | 266 | 6' 11.5" | NA | NA | NA | NA |
| 2012 | Hoop Summit | 6' 9" | 6' 9.75" | 263 | 7' 0" | 8' 11.5" | NA | NA | NA |
| 2011 | LeBron James Camp | NA | 6' 11" | 258 | 7' 0" | NA | NA | NA | NA |
| 2011 | Amare Stoudemire Camp | NA | 6' 11" | 258 | 7' 0" | NA | NA | NA | NA |



Basic Per Game Statistics

- Comprehensive Stats - Statistical Top 25s
| Year | League | Name | GP | Min | Pts | FG | FGA | FG% | 2Pt | 2PtA | 2P% | 3Pt | 3PtA | 3P% | FTM | FTA | FT% | Off | Def | TOT | Asts | Stls | Blks | TOs | PFs |
| --- | --- | --- | --- | --- | --- | --- | --- | --- | --- | --- | --- | --- | --- | --- | --- | --- | --- | --- | --- | --- | --- | --- | --- | --- | --- |
| 2015/16 | NBA | Mitch McGary | 6 | 5.7 | 1.5 | 0.5 | 1.0 | 50.0 | 0.5 | 1.0 | 50.0 | 0.0 | 0.0 | &nbsp | 0.5 | 1.0 | 50.0 | 0.5 | 1.0 | 1.5 | 0.3 | 0.0 | 0.2 | 0.8 | 0.8 |

Player Page&nbsp&nbsp| Player Stats | Mock Draft History | Related Articles&nbsp&nbsp| Add to My Draft Express&nbsp
&nbsp
Situational Statistics: the 2014 Center Crop
June 21, 2014
Michigan big man Mitch McGary saw his season cut short as a nagging back injury got the better of him after only 8 games. In those 8 games, McGary made a major impact on a glass and as a complementary player in Michigan's half court offense, neither of which help him here, as his profile as a scorer looks fairly average. Scoring a below average .949 points per-possession overall, McGary did his best work in transition. He ranks second in this group scoring 1.1 points per transition possession and saw more of his transition possessions (11.5%) on the break, than any of his peers. While McGary isn't a great athlete, he runs the floor extremely hard for a player his size.

Aside from his ability to make use of his hustle, McGary's role was somewhat unique for a college player. 16.7% of his possessions came as the roll man in the two man game, the most among his peers in the NCAA, but only 11.5% of his possessions came in the post, easy the lowest mark among collegiate players. Jim Beilein's big men rarely see extensive usage on the block, even those as rugged as McGary who scored an above average .89 points per possession with his back the basket on limited touches.

Ranking well below average scoring only .44 points per jump shot and 1.23 points per finishing opportunity, McGary's efficiency doesn't stand out in many areas, but as we alluded to above, his value at the next level isn't tied solely to his scoring ability. McGary's health and conditioning are the most important things for him to shore up in the short term, but finding a niche offensively so he can bring all the other positive things he does to the floor will be high on his list after he hears his name called on draft day.

[Read Full Article]

---
Mitch McGary Updated Scouting Report
May 7, 2014
Josh Riddell

After playing a minor role for most of the regular season as a freshman, Mitch McGary became a vital piece of the Michigan Wolverine team during the NCAA Tournament, emerging as a major force and helping them to the National Championship Final. With Trey Burke and Tim Hardaway leaving for the NBA, many were looking forward to McGary's second season to see how he would adjust to playing a larger role. However, his season was cut short by a back injury, and McGary was only able to participate in eight games.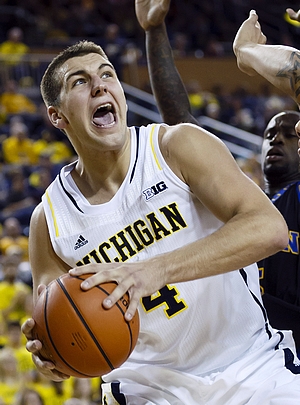 US Presswire



After testing positive for marijuana during the NCAA tournament, McGary was facing a season-long suspension and another lost year on the Michigan bench, which made his decision to enter the NBA Draft a very easy one. Since he played just 198 minutes this past season (although he did face some tough competition in Arizona, Duke, Florida State and others), teams will not be able to garner much from the 2013-2014 season, even if his numbers he produced were quite solid. Teams will need to look back to their evaluation of McGary from his freshman season, upcoming pre-draft workouts and his physical to determine the current health of his back and how to rate him as a prospect in the 2014 Draft.

Much of what we said in our preseason video, where he was ranked as the #2 returning prospect in the Big Ten is still very much relevant, due to McGary's limited minutes. McGary benefited from playing alongside a dynamic point guard in Burke, which allowed him to play within himself and complement his teammates nicely. He was able to fill certain roles for that Michigan team which demonstrated the value he can provide to a NBA team.

McGary continued to play a similar role as a sophomore as he did the previous season, relying heavily on offensive rebounds, transition opportunities, cuts, and pick and roll finishes to score most of his points. He was the second best offensive rebounder in our top-100 his freshman year, pulling down 5.1 per 40 minutes pace adjusted, and posted a similar mark as a sophomore (4.9), despite seeing an uptick in playing time.

McGary is a solid finisher around the rim, converting 62.3% of such opportunities his freshman year, and 61% as a sophomore, according to Synergy Sports. While he's not a high-flyer, he's extremely aggressive in the way he attacks the rim, not being afraid to take contact and playing the game with the type of edge you love to see from a big man, which translates to every facet of the game.

While McGary doesn't possess great length for a center with his 6-11 ½ or 7-0 wingspan (depending on which measurement you believe), his quickness and agility will help him on both ends of the floor. He will be able to get down the floor in transition for easy baskets, as fast-break opportunities made up 10.5% and 11.5% of his possessions as a freshman and sophomore, as he was often the first big man down the court. His effort level is terrific, which NBA coaches will certainly love.

Taking pride in setting solid picks is another area McGary will be able to help an NBA team, as he works hard to free his teammates both in ball screens and for off-ball actions. In ball screens, he focuses on sprinting hard at the ball handler to force the defense to react, which often gives him a free run to the rim.

Rolling to the rim after a pick was one of McGary's biggest sources of offensive production as both a freshman and sophomore, and he was often able to get easy looks at the basket because of the quality of the screen he set and the aggressiveness he shows, as well as the terrific spacing Michigan enjoyed.

McGary started taking more jump-shots as a sophomore, but it's difficult to gauge how effective he is in this area considering the limited sample size (he was 2/9). His form and follow through aren't great, as he often appeared to be rushing through the motion, which hurt his accuracy, but he did show some progress with his free throw shooting, converting 67% of his attempts after making just 44% as a freshman. Again, the limited sample size (24 attempts) leaves a lot to be desired here.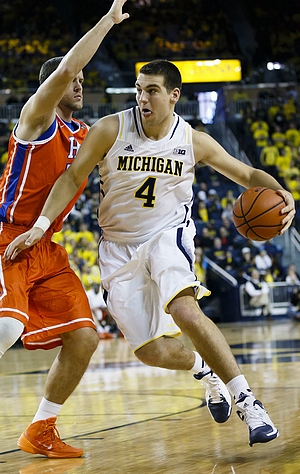 US Presswire



McGary does not have an advanced post game and was not often asked to score in the post, as he attempted a handful of shots with his back to the basket in his 46 games at Michigan. He has quick feet and nice agility, but average footwork and often looks rushed with his moves, not really reacting to what the defense is giving him and forcing up difficult shots. He also relied too heavily on turnaround jump shots instead of making a move toward the rim. McGary does pass well out of the post, finding the open man and delivering the ball accurately and willingly to teammates.

Defensively, McGary has average length and explosiveness, which will likely prevent him from offering much in the ways of rim protection, but his lateral movement will allow him to help defensively in other areas. He has a high basketball IQ and an even better motor, which puts him in the right position on defense and allows him to play the passing lanes, where his 2.2 steals per 40 minutes pace adjusted was one of the highest rates among all players in our top 100 his freshman season. He was off to an even better start as a sophomore, averaging 3.2 steals per-40 minutes, a rate that is certainly unsustainable but shows just how aggressive he is fighting around opponents in the post and poking away entry passes.

McGary can use his lateral quickness, agility and motor to become a solid pick and roll defender, which is valuable in today's NBA. He should be comfortable switching out to quicker players for short bursts, cutting off dribble penetration and funneling them to the help defense, even if his man to man defense and weakside presence likely won't be anything more than average.

At this stage it is difficult to project McGary's draft stock until he goes through his pre-draft physical to determine the long-term health of his back. If healthy, he could have a long career fitting a valuable role as a screen setter, rebounder, finisher and high motor glue guy. Unfortunately his extremely physical style of play inside the paint doesn't lend itself well to someone with injury concerns, which is something NBA teams will have to weigh together with their team doctors. McGary's skills don't project towards the highest ceiling, as it is unlikely he will become a dominant player on either end of the floor, and turning 22 next month, there are some question marks about just how much better he can still get. With that said, players with his combination of size, agility and motor don't grow on trees, and if healthy, he could absolutely have a long and successful NBA career by simply filling a role on the right team.

[Read Full Article]

---
Top NBA Prospects in the Big Ten, Part 2: Mitch McGary Scouting Video
September 17, 2013


Mike Schmitz is the video analyst for DraftExpress. Follow him on twitter and subscribe to the DraftExpress YouTube page. He will be breaking down the NBA draft in digital format all year long for us.

[Read Full Article]

---
2012 Nike Hoop Summit: USA Team Measurements
April 7, 2012
Mitch McGary
Height without shoes: 6'9
Height with shoes: 6'9.75
Weight: 263
Wingspan: 7-0
Standing Reach: 8'11.5

[Read Full Article]

---
2011 National Prep Showcase: Elite 2012 Prospects
November 23, 2011
Jonathan Givony

This wasn't a particularly impressive weekend for the very highly regarded Mitch McGary (#2 ESPN, #2 Scout, #3 Rivals), who struggled to find much of a rhythm in either of the two games he played in. Hence, this may not have been the optimal place to evaluate him, but it also isn't our first time watching him.

McGary nevertheless has quite a few things going for him as a prospect, which helps explain why he was able to be such a dominant force on the AAU circuit this past summer. He possesses an excellent frame, standing 6-10 with terrific bulk, which he's able to use very well to his advantage at this level of competition. McGary is not an exceptional athlete, showing good, but not great explosiveness for a NBA big man, but definitely makes the most of the tools he has.

McGary runs the floor extremely hard and plays with an unbelievable amount of energy, diving on the floor for loose balls and having no qualms about using his body to assert himself inside the paint. He clearly has a huge passion for the game, pounding his chest at any opportunity, firing up his teammates and being a very positive influence both on and off the floor. He boxes out opponents well and is a massive presence on the glass, often going out and grabbing rebounds well out of his area thanks to sheer desire.

Defensively, he can be a bit wild at times, but has more than enough bulk to hold his own in the paint and shows the willingness and awareness to rotate over and get stops. His lateral quickness is just average, though, which will likely relegate him to the center position long-term.

Offensively, McGary does not appear to be an overly skilled player at this point in time. His back to the basket game consists mostly of overpowering his opponents with brute force, as his footwork is fairly raw. He attempted to show off his perimeter game at this tournament, putting the ball on the floor somewhat wildly and pulling up for jump shots, but did not find much success. He did show some solid passing ability, though, again looking like an unselfish and committed teammate, which will surely be appreciated by John Beilein at Michigan.

There's little doubt that McGary will have an instant impact at Michigan with his terrific size and energy level. Few players in the Big Ten can match up with him physically, and that coupled with his aggressiveness and tenacity will allow him to produce from day one.

How much upside McGary still has to grow into remains somewhat of a question mark, though. Born in June of 1992, he's significantly older than almost any of his colleagues in the 2012 high school class. He'll turn 20 nearly six months before playing his first game at Michigan, making him the same age or older than some players who have already been drafted or are currently sophomores in college, such as Tobias Harris, Harrison Barnes or Jeremy Lamb.

There is some concern that he's been building up his reputation on the AAU circuit by using his adult frame to overpower players much younger and less physically developed than him over the past year. He went from being almost a total unknown at last year's National Prep Showcase to arguably the #1 prospect in high school basketball according to some. If Michigan fans and media members are expecting Kevin Love or Jared Sullinger, they could be disappointed.

While McGary will need to polish up his skill-level and develop his all-around game to continue to produce at the same rate moving forward, there is definitely a huge market for hulking, hard working big men who play the game with a chip on their shoulder. The only question now is how high the expectations will be, and whether he'll be able to live up to them.

[Read Full Article]

---