Shabazz Napier
Recent Tweets
All Tweets
DraftExpress: Shabazz Napier out in Vegas now trying to make up for his Orlando Summer league performance where he posted the 10th worst PER of all time.
2014-07-12 22:37:41
DraftExpress: Shabazz Napier is picked #24 by Charlotte. Last man standing in the Green Room this year.
2014-06-26 22:07:28
DraftExpress: Last men standing in the Green Room (19 players invited 19 players selected so far) Rodney Hood and Shabazz Napier. NBA pegged draft well.
2014-06-26 21:39:12
DraftExpress: RT @WojYahooNBA As further proof of how far Shabazz Napier's stock has risen He's accepted an invite to green room for NBA Draft source \u2026
2014-06-20 10:33:07
DraftExpress: As further proof of how far Shabazz Napier's stock has risen He's accepted an invite to green room for NBA Draft source tells Yahoo.
2014-06-20 10:27:49
Team: Magic
Physicals
Positions
Rankings
Salary
Misc
H: 6' 1"
W: 175 lbs
Bday: 07/14/1991
(24 Years Old)

Current: PG
NBA: PG
Possible: PG

RSCI: 85

Agent: Rob Pelinka
Current Salary:$1,238,640

High School: Charlestown
Hometown: Roxbury, MA
Drafted: Pick 24 in 2014 by Heat

Predraft Measurements
| Year | Source | Height w/o Shoes | Height w/shoes | Weight | Wingspan | Standing Reach | Body Fat | No Step Vert | Max Vert |
| --- | --- | --- | --- | --- | --- | --- | --- | --- | --- |
| 2014 | NBA Draft Combine | 5' 11" | 6' 1" | 175 | 6' 3.25" | 7' 9" | 7.4 | 30.5 | 37.5 |
| 2013 | LeBron James Camp | NA | 6' 1.5" | 185 | 6' 4" | NA | NA | NA | NA |
| 2011 | LeBron James Camp | NA | 6' 1" | 182 | 6' 2" | NA | NA | NA | NA |
| 2011 | Deron Williams Camp | NA | 6' 1" | 182 | 6' 2" | NA | NA | NA | NA |



Basic Per Game Statistics

- Comprehensive Stats - Statistical Top 25s
| Year | League | Name | GP | Min | Pts | FG | FGA | FG% | 2Pt | 2PtA | 2P% | 3Pt | 3PtA | 3P% | FTM | FTA | FT% | Off | Def | TOT | Asts | Stls | Blks | TOs | PFs |
| --- | --- | --- | --- | --- | --- | --- | --- | --- | --- | --- | --- | --- | --- | --- | --- | --- | --- | --- | --- | --- | --- | --- | --- | --- | --- |
| 2015/16 | NBA | Shabazz Napier | 16 | 13.1 | 4.9 | 1.8 | 4.4 | 39.4 | 1.1 | 2.4 | 44.7 | 0.7 | 2.1 | 33.3 | 0.8 | 1.1 | 70.6 | 0.2 | 0.9 | 1.1 | 2.2 | 0.4 | 0.1 | 1.1 | 0.8 |

Player Page&nbsp&nbsp| Player Stats | Mock Draft History | Related Articles&nbsp&nbsp| Add to My Draft Express&nbsp
&nbsp
2014 NBA Draft Media Day Interviews: Vonleh, Ennis, and Napier
June 26, 2014
[Read Full Article]

---
Situational Statistics: the 2014 Point Guard Crop
June 18, 2014
Connecticut's magical run to the NCAA Championship becomes a bit less surprising when you look at what their lead guard, Shabazz Napier, was able to accomplish on paper. Operating in the half court as often as all but 3 players on this list, Napier ranked 3rd among his peers scoring .99 points per half court possession.

That in it of itself is fairly impressive, but the manner in which Napier scored those points is what really stands out. 54.2% of Napier's possessions came either in isolation or pick and roll situations. Ranking among the top-5 players in points per-possession in both situations, Napier thrived under the pressure of having to make things happen on his own last season, while also ranking as an above average distributor. Some 73% of Napier's shots in the half court were jump shots, of which he made 41.2%. Both of those numbers rank as the highest percentages of any point guard in this draft. Napier was especially prolific with his pull-up jump shot, as he made memorable jumper after memorable jumper off the bounce from all over the floor in March finishing the year scoring a top-ranked .986 points per pull-up jump shot.

To put into perspective just how dynamic Napier was in the tournament, the percentage of his possessions coming from isolations and pick and rolls rose to 57.2% while he made 46.3% of his pull-up jump shots, many of which came in one-on-one situations where Napier simply measured his defender, waited for daylight, and fired.

Napier shot just 46.6% as a finisher in the half court, the second lowest percentage of any point guard in our rankings, making his ability to translate the big-time shot making ability he showed this season a major point of interest next season.

[Read Full Article]

---
2014 NBA Combine Interviews: DeAndre Daniels and Shabazz Napier
May 16, 2014
[Read Full Article]

---
2014 NBA Draft Combine Measurements Analysis
May 15, 2014
Shabazz Napier: The two-time NCAA Champion measured an inch shorter than expected at 5-11 without shoes. He does sport a solid 6-3 ½ wingspan but his lack of explosiveness combined with less than stellar height hurts his potential a bit. There are plenty of NBA players with similar measurements as Napier's though, for example Patrick Mills, who looks comparable physically in terms of sheer height/length and reach.

[Read Full Article]

---
NBA Draft Prospect of the Week: Shabazz Napier
January 2, 2014
Shabazz Napier has established himself as one of the top point guards in college basketball under Kevin Ollie at UConn, averaging a robust 16 points, 6 rebounds and 6 assists per game for a top-25 ranked team currently 11-2.

---
-NBA Draft Prospect of the Week: Bogdan Bogdanovic (Video Scouting Report)
-NBA Draft Prospect of the Week: Joel Embiid (Video Scouting Report)
-NBA Draft Prospect of the Week: Julius Randle (Video Scouting Report)
-NBA Draft Prospect of the Week: Jabari Parker (Video Scouting Report)
-Revisiting Nikola Mirotic (Video Scouting Report)
-Revisiting Alexis Ajinca (Video Scouting Report)
---

Napier's shortcomings as a distributor and unselfish teammate are well documented--Andre Drummond looked mediocre alongside him and Jeremy Lamb in his lone season at UConn--but he's made some strides in this area at the college level under former NBA point guard Kevin Ollie.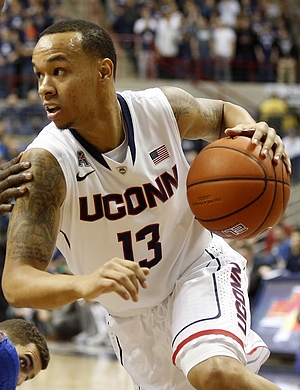 US Presswire



One of the most recognizable faces at the college level this season, partially due to how long he's been around for, Napier will look to show NBA decision makers that he can play a role at the next level with another NCAA Tournament run this March.

Playing on college basketball's biggest platforms has given us ample opportunity to evaluate Napier's very distinct strengths and weaknesses as a prospect, which we've done in the following video scouting report courtesy of Mike Schmitz.



All of our video scouting reports this season can be found here.

[Read Full Article]

---
Trending Prospects: Shabazz Napier
February 28, 2013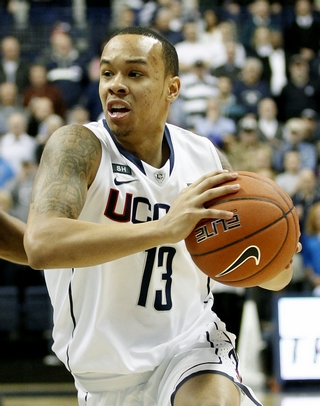 US Presswire



Derek Bodner

After an extremely disappointing sophomore season – which saw UConn finish with a 6-11 record in their last 17 games and lose in the first round of the NCAA tournament – Shabazz Napier returned for his junior season trying to turn the Huskies fortunes around, this time as the offensive focal point after the departures of Jeremy Lamb, Andre Drummond and Alex Oriakhi. Having played alongside some dynamic players during his first two years at Connecticut, Shabazz Napier has assumed a very different role in UConn's offense during his junior season, to great success.

Napier is averaging 18.4 points per 40 minutes pace adjusted on a 61% true shooting percentage, both drastic increases over the 15.1 points per 40 minutes pace adjusted on 53% TS% he averaged his sophomore year. His assist rate is down, from 6.8 to 4.9, mostly a result of sharing ball handling and shot creation responsibilities with Ryan Boatright. Perhaps more importantly, Napier, Boatright, and Kevin Ollie have Connecticut back on track, sitting at 9-6 in the Big East, 19-8 overall, and with wins over Michigan State, Syracuse and Notre Dame.

Playing alongside Boatright has freed Napier up a bit in terms of ball handling responsibilities and allowed him to focus in on what has always been one of his strengths by placing Napier in more catch and shoot situations. Napier has excellent form when shooting in rhythm and doesn't need much time to get his shot off, and the 1.197 points per possessions he shoots in catch and shoot situations is a very good mark.

Always featuring deep range and potential as a jump shooter, Napier overall has been much less streaky this season thanks to improved shot-selection, and he has seen his efficiency in jump shots increase from 0.87 points per possession last season to 1.027 according to Synergy Sports Technology.

With the ball in his hands, Napier still operates largely out of pick and roll sets. He does a solid job shooting off the pick and can also find the open man. Napier has decent court vision and creativity coming off the pick, able to hit both big men diving to the hoop and stationed three point shooters.

In the lane, Napier is hardly an exceptional athlete, and struggles at times finishing over length, although the 49.3% he is shooting on two point field goal attempts is a substantial increase over the 41.8% he shot his sophomore year, likely due to him cutting back on the amount of long, contested 2-pointers he attempts each game. He does a fair job of drawing fouls down low, which helps keep his efficiency up, but still doesn't get into the paint that often, with nearly 80% of his half-court shot-attempts coming off jumpers.

While not a tremendous athlete, and also fairly small, Napier has good control of his dribble and changes direction and speed effortlessly, allowing him to get by his man off the dribble more than one might expect. Napier once again shows decent vision and creativity in the paint, and is able to use the attention he receives to create scoring opportunities for his teammates.

That being said, Napier can at times get a little bit out of control, sometimes forcing risky passes, dominating the ball for long stretches of a possession, and taking ill-advised shots. This was a major issue for him in his first two years at UConn, and while it is still at times very noticeable, this is something Napier has done a very good job of dialing back this season, likely due to a combination of his changed role and growth as a player.

Kevin Ollie has done a good job of using Napier's strengths and minimizing his weaknesses on the defensive end of the court. He is a pesky defender on the perimeter, moving his feet fairly well and with active hands, as his 2.1 steals per 40 minutes pace adjusted is one of the top figures in our database for point guards.

That being said, Napier's physical profile presents some obvious concerns on this end of the court when projecting him to the next level. Standing at a (generous) 6'1" with only a 6'2" wingspan, Napier will be at a physical and athletic disadvantage every night in the NBA.

Through a combination of change in role and improvement as a player, Shabazz Napier has become one of the more efficient point guards in college basketball. While still having concerns over his style of play, size, and decision making skills, Napier is showing this season that he is able to play a more in control style of play, which could ease some of the concerns NBA scouts have for him at the next level. While Connecticut isn't eligible for the NCAA tournament due to poor Academic Progress Rate scores, the success they have enjoyed so far this season will be a major building block for Napier and his team to build around going into next season.

Still projecting as a fringe NBA prospect at best, Napier has done a good job of at least putting himself into the conversation and can continue to help his pro prospects further with an even stronger senior year.

[Read Full Article]

---