Tyler Ennis
Recent Tweets
All Tweets
DraftExpress: Phoenix selects Tyler Ennis at 18. Will be interesting to see if this is to keep or trade. Like this pick a lot for them. Ennis is very good
2014-06-26 21:33:04
DraftExpress: Interesting development on the eve of the draft...no one has any clue where Syracuse's Tyler Ennis & Jerami Grant are going. Boeheim knew?!
2014-06-25 22:50:16
DraftExpress: Tyler Ennis at NBA Draft Media Day in NYC http://t.co/U9X5QhZtGf
2014-06-25 13:35:38
DraftExpress: Interview I did with Canadian PG Tyler Ennis after his 42-point outing http://t.co/UADsrssQ4l (plus Milutinov Exum Saric Micic) #fibau19
2013-07-06 13:49:26
DraftExpress: Canada knocks off China 111-100 in triple overtime and advances to the 5th\/6th place game tomorrow. Tyler Ennis scored 42 points. #fibau19
2013-07-06 11:58:46
Team: Bucks
Physicals
Positions
Rankings
Salary
Misc
H: 6' 2"
W: 182 lbs
Bday: 08/24/1994
(21 Years Old)

Current: PG
NBA: PG
Possible: PG

RSCI: 27

Agent: Mike George
Current Salary:$1,590,720

High School: St. Benedict Prep
Hometown: Brampton, ON
Drafted: Pick 18 in 2014 by Suns

Predraft Measurements
| Year | Source | Height w/o Shoes | Height w/shoes | Weight | Wingspan | Standing Reach | Body Fat | No Step Vert | Max Vert |
| --- | --- | --- | --- | --- | --- | --- | --- | --- | --- |
| 2014 | NBA Draft Combine | 6' 1" | 6' 2.5" | 182 | 6' 7.25" | 8' 2" | 6.2 | 29.0 | 36.0 |
| 2012 | LeBron James Camp | NA | 6' 2" | 180 | 6' 5" | NA | NA | NA | NA |
| 2012 | Deron Williams Camp | NA | 6' 2" | 180 | 6' 5" | NA | NA | NA | NA |



Basic Per Game Statistics

- Comprehensive Stats - Statistical Top 25s
| Year | League | Name | GP | Min | Pts | FG | FGA | FG% | 2Pt | 2PtA | 2P% | 3Pt | 3PtA | 3P% | FTM | FTA | FT% | Off | Def | TOT | Asts | Stls | Blks | TOs | PFs |
| --- | --- | --- | --- | --- | --- | --- | --- | --- | --- | --- | --- | --- | --- | --- | --- | --- | --- | --- | --- | --- | --- | --- | --- | --- | --- |
| 2015/16 | NBA | Tyler Ennis | 6 | 14.7 | 4.8 | 1.8 | 4.0 | 45.8 | 1.5 | 3.5 | 42.9 | 0.3 | 0.5 | 66.7 | 0.8 | 1.0 | 83.3 | 0.3 | 1.2 | 1.5 | 1.5 | 0.3 | 0.0 | 1.2 | 1.5 |

Player Page&nbsp&nbsp| Player Stats | Mock Draft History | Related Articles&nbsp&nbsp| Add to My Draft Express&nbsp
&nbsp
2014 NBA Draft Media Day Interviews: Vonleh, Ennis, and Napier
June 26, 2014
[Read Full Article]

---
Situational Statistics: the 2014 Point Guard Crop
June 18, 2014
Like Michael Carter-Williams before him, this study is not particularly kind to Tyler Ennis, though for somewhat different reasons. Like the 76ers rookie in his final year at Syracuse, Ennis's 14.2 possessions used per-game and .889 points per possession overall both rank among the lowest marks of any guard in this draft. However, Ennis's 11.5% turnover rate is among the lowest in this group and is just over half the 22.1% turnover rate Carter-Williams posted before turning pro. His profile on the whole highlights his impressive capacity to play low-mistake basketball and improvable offensive game.

Ranking among the least turnover prone players in this group in isolations, pick and rolls, and spot-ups, Ennis's unique poise for a freshman shows on paper. He operated in the two man game extensively, as 32.9% of his possessions came on the pick and roll and 29.9% of his possessions derived from his own usage and his passes came from dishes out of the pick and roll, both of which rank 4th among point guard prospects. Sporting a 3.5 assist-to-turnover ratio in the half court overall, Ennis's decision-making when the game slows down is one of his biggest strengths relative to his peers.

While Ennis has a maturity as a distributor beyond his years, he still has room to grow as a scorer. Ranking just average scoring 1.041 points per spot-up possession and below averaging scoring .794 points per isolation possession, Ennis is limited by a lack of burst attacking the rim. The Canadian floor general ranks as the 4th worst finisher among his peers scoring 1.011 points per-shot making exactly 50% of his attempts inside. Often unable to get all the way to the rim, 20.5% of his shot attempts in the half court last season were floaters, of which he made a below average 28.3%.

While Ennis may not be an efficient scorer in the paint, he is a capable pull-up jump shooter ranking 5th among this group scoring .87 points per dribble jumper. Only four players in this group took fewer catch and shoot jumpers than Ennis, as he rarely slid over to operate off the ball when he was on the floor.

Looking ahead, there's little questioning Ennis's ability to get others involved, and there's certainly reason to believe he'll be able to add value as a distributor early in his career. On the other hand, it will be interesting to see what he can add as a scorer, especially when his perimeter shot isn't falling. Averaging 20.9 points per-game at the U19 World Championships last summer, Ennis has shown flashes of scoring ability and has nice shooting mechanics, but it will be worth monitoring how he adjusts to the more athletic defenders he'll find waiting for him inside the arc at the next level.

[Read Full Article]

---
2014 NBA Draft Combine Measurements Analysis
May 15, 2014
Tyler Ennis: The consummate point guard showed how he was able to wreak havoc at the top of Syracuse's zone last year to the tune of 2.4 steals per 40, as he posted a 6-7 ¼ wingspan. Ennis measured a 6-5 wingspan at the LeBron James and Deron Williams Camps in 2012. Although not quite as strong, the 6-2 ½ point guard compares physically to 2012 draftee and NBA standout Damian Lillard (6-2 ¾ in shoes, 189 pounds, 6-7 ¾ wingspan).

[Read Full Article]

---
2014 NBA Combine Interview: Tyler Ennis
May 15, 2014
[Read Full Article]

---
Tyler Ennis Scouting Report and Video Breakdown
April 4, 2014
Tyler Ennis exceeded all expectations in his lone year at Syracuse, earning Second-Team All-ACC and All-Rookie team honors while leading the Orange to a 28-6 record. Now that his college career is over, we can now take a step back and conduct an inventory of everything he displayed this season as an NBA prospect, as well as the things he still has to improve on.
---
-Rodney Hood Scouting Report and Video Breakdown
-Doug McDermott Scouting Report and Video Breakdown
-Andrew Wiggins Scouting Report and Video Breakdown
-Elfrid Payton Scouting Report and Video Breakdown
-Marcus Smart Scouting Report and Video Breakdown
-NBA Draft Prospect of the Week: C.J. Wilcox (Video Scouting Report)
-NBA Draft Prospect of the Week: T.J. Warren (Video Scouting Report)
-NBA Draft Prospect of the Week: A.J. Hammons (Video Scouting Report)
-NBA Draft Prospect of the Week: K.J. McDaniels (Video Scouting Report)
-NBA Draft Prospect of the Week: Deonte Burton (Video Scouting Report)
-NBA Draft Prospect of the Week: Noah Vonleh (Video Scouting Report)
-NBA Draft Prospect of the Week: Nik Stauskas (Video Scouting Report)
-NBA Draft Prospect of the Week: Aaron Gordon (Video Scouting Report)
-NBA Draft Prospect of the Week: Clint Capela (Video Scouting Report)
-NBA Draft Prospect of the Week: Thanasis Antetokounmpo (Video Scouting Report)
-NBA Draft Prospect of the Week: Shabazz Napier (Video Scouting Report)
-NBA Draft Prospect of the Week: Bogdan Bogdanovic (Video Scouting Report)
-NBA Draft Prospect of the Week: Joel Embiid (Video Scouting Report)
-NBA Draft Prospect of the Week: Julius Randle (Video Scouting Report)
-NBA Draft Prospect of the Week: Jabari Parker (Video Scouting Report)
-Revisiting Giannis Antetokounmpo (Video Scouting Report)
-Revisiting Damian Lillard (Video Scouting Report)
-Revisiting Nikola Mirotic (Video Scouting Report)
-Revisiting Alexis Ajinca (Video Scouting Report)
---


Ennis' playmaking ability is what separates him from other players in this draft class. He is one of the few "pure point guards" you can point to, as he led the NCAA in PPR as a freshman, posting a rate 50% higher than the next best PG. Ennis plays with a maturity beyond his years, as he operates at his own pace, is incredibly unselfish, and is always under control. He whips the ball all over the floor with great timing, moving the ball ahead for easy transition baskets, making pinpoint post-entry passes, and doing a tremendous job executing the pick and roll thanks to his superb ball-handling skills and court vision.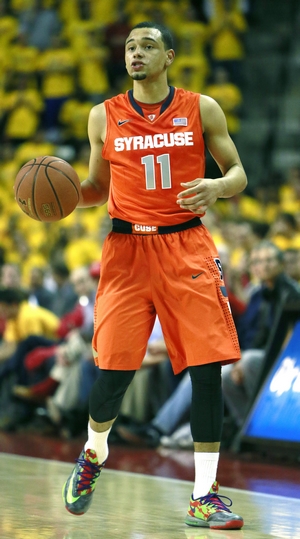 US Presswire



Since 2001, Only six drafted players under the age of 20 have posted a PPR over 5 like Ennis: Mike Conley, Ty Lawson, T.J. Ford, Kendall Marshall, Eric Maynor and Marcus Williams (UConn)—which shows how rare it is to see a player this young show this type of passing acumen at such an early stage.

Ennis' excellent feel for the game and anticipation skills show up on the defensive end of the floor too, as he generates a good amount of steals (2.4 per-40). Part of this has to do with the fact that Syracuse plays exclusively in a zone, but his solid wingspan (6-5), quick hands and exceptional instincts also have plenty to do with that.

Ennis is not a prolific or efficient scorer as we'll discuss below, but he does show some promise as a perimeter shooter, which bodes well for his NBA prospects. He's proven capable of making jumpers with his feet set or off the dribble, and has the type of mechanics and touch that lead you to believe he'll continue to improve in time.

Another aspect of Ennis' game that breeds optimism is his demeanor and the confidence he displays. He shows tremendous poise and maturity for his age, as he never looks rattled and seems to elevate his game when his team needs him the most. He took all of Syracuse's big shots this season, leading to some very memorable moments (and some less), but nevertheless proved that he likes the spotlight, has a killer instinct, and won't back down from a challenge.

On the downside, Ennis has a number of flaws, some of them very significant, which could become much more notable in the NBA.

One is his overall athleticism, as he's not the quickest or most explosive player around. His first step is just average, which forces him to rely heavily on his superior ball-handling skills, timing and hesitation moves to create his own shot in the half-court, something he found mixed results in at the college level. Often you see him pushing off his man with his off hand to try and gain separation without a screen, which might not work quite as well in the NBA against bigger and stronger defenders.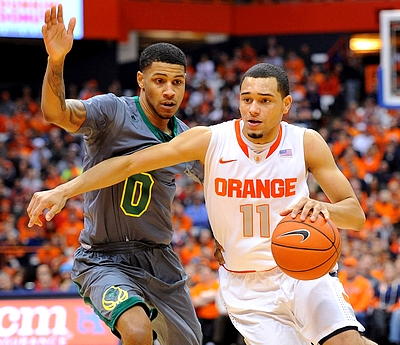 US Presswire



This really shows up in his struggles getting inside the paint and finishing around the basket in the half-court, where he converted just 42% of his attempts when accounting for floaters and layups. He shot nearly as many floaters (60) as he did layups (94) this season, and hit just 28% and 50% of them respectively in the half-court, both very poor rates. Getting stronger could help him do a better job of finishing through contact and getting to the free throw line (5.4 attempts per-40 pace adjusted, ranked 13th of 15 Top-100 prospect PGs).

Ennis wasn't much of a scorer in general in college, his 15.8 points per-40 ranked 12th among the 15 point guards in our top-100 prospects. That's something most NBA teams expect from their point guard these days, particularly late in games, so it will be interesting to see how he develops in this regard in the long term. How he shoots the ball from the perimeter in workouts could go a long ways in convincing teams just how much he can improve in this area down the road. He was somewhat inconsistent from the perimeter in his lone season in college (35% 3P%), but seems to have good potential here thanks to his solid mechanics and touch. This is almost certainly an absolute must considering his limitations in other areas.

Another thing NBA teams will want to look at in private settings is his man to man defense. It's tough to get a great read on this part of his game due to Syracuse's strict insistence on only using the 2-3 zone, but based on the glimpses we can see on film and how he looked in other settings (such as the U19 World Championship last summer), he likely projects as an average defender at best. His lateral quickness is not exceptional, and his fundamentals as a man to man defender weren't great going into college, so a full season of not practicing or improving on that part of his game may cause him to struggle on this end of the floor, at least early on in the NBA. That's not to say that he can't improve on this in time, though, as he has good length and excellent anticipation skills as noted, and certainly doesn't look like a lazy player in the way he approaches the game.

Finally, while Ennis only played one season of college basketball, he is a little bit older than your average freshman, as he turns 20 this summer. He's a full year older than fellow freshmen Aaron Gordon, James Young and Noah Vonleh for example, and the same age as Michigan State sophomore Gary Harris. That's definitely not a deal breaker, but it is worth noting.

Matchups against the likes of Duke, Virginia, Villanova, Pittsburgh, Baylor, North Carolina and others have given us ample opportunity to evaluate Ennis's very defined strengths and weaknesses as a prospect, which we've done in the following video scouting report, courtesy of Mike Schmitz.



All of our video scouting reports this season can be found here.

[Read Full Article]

---
2013 FIBA U19 World Championship Interviews: Ennis, Milutinov, Exum
July 5, 2013
[Read Full Article]

---
High School Class of 2013: Elite Prospect Scouting Reports, Part Two
September 12, 2012
Jonathan Givony

Recruiting Rankings: ESPN: #41, Scout: #20, Rivals: #21, 24/7: #36

Strengths:
-6-2 in shoes with a 6-5 wingspan
-Very versatile offensive player
-Excellent shooting stroke. Can make shots with his feet set or off the dribble
-Fluid player with nice ball-handling skills. Operates at different speeds. Can create with either hand
-Terrific potential on pick and roll
-Does a good job creating for others unselfishly
-High basketball IQ
-Plays with poise and maturity. Keep mistakes to a minimum

Weaknesses:
-No blazing speed. Good, but not great athlete
-Sometimes struggles to finish at the rim
-Leadership skills? A little bit quiet on the floor
-Lateral quickness? Defensive potential?

Outlook: Smooth, mature, efficient, European style guard who shows a great blend between passing, creating and scoring. Looks to be ready to contribute right away.

Highlights:




[Read Full Article]

---